Christine Pollard, a professor of kinesiology and the founding director of the Doctor of Physical Therapy program at Oregon State University – Cascades, has been named senior associate dean. Pollard will serve as chief academic officer and second-in-command for the campus.
"I'm thrilled for Christine to lead the growth of our academic portfolio and collaborate with industry as we produce talented graduates to meet the region's economic and workforce needs," said Sherm Bloomer, chancellor and dean of OSU-Cascades.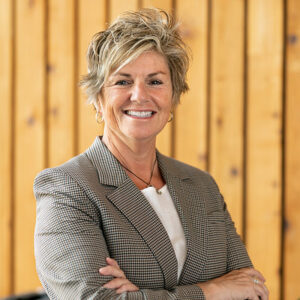 As senior associate dean, Pollard will serve on OSU-Cascades' leadership team and work with OSU academic and research leaders in Corvallis to support the growing Bend campus. She will also work with OSU-Cascades' campus planners to determine academic and research space needs for future buildings.
A licensed physical therapist with a doctorate in biomechanics, Pollard joined OSU-Cascades in 2011 to develop and lead the undergraduate kinesiology program. She oversaw the creation of the OSU-Cascades FORCE biomechanics lab in 2013. The lab provides learning opportunities for students and is dedicated to advancing injury-prevention and rehabilitation through biomechanical analysis.
Pollard also led the development of the Doctor of Physical Therapy program. Designed to address the shortage of physical therapists around the U.S and Oregon, it was the first such program to be offered by a public university in Oregon when it launched in 2021. The first students to complete the program will graduate in 2024.
"It's been an honor to serve at OSU-Cascades for more than a decade, helping build programs that serve the region's health and wellness needs," said Pollard. "I'm excited to expand these efforts and work alongside a diverse community of faculty instructors, researchers and scholars as we grow an innovative OSU campus for Central Oregon." 
Pollard received a master of science in physical therapy from Pacific University and a doctorate from University of Massachusetts. She served on the faculty in physical therapy programs at the University of Southern California and California State University Long Beach before joining OSU-Cascades, where she was promoted to full professor in 2021.
She received the Beaver Champion Award in 2022. The award was presented by OSU President Jayathi Murthy for outstanding effort and achievement of excellence, extra effort beyond that requested and performance of the highest quality.
Pollard begins her new role on Nov. 1. She will continue to oversee the Doctor of Physical Therapy program until the program director position is filled.