Leadership Bend Alumni Association
There are now nearly 600 alumni of the Leadership Bend program, which is celebrating 30 years in 2023. Leadership Bend alumni are some of the most connected and engaged leaders in our region. They represent a diverse community of influencers who build life-long, powerful relationships through the LBAA network. While each alum contributes to the region in their own significant way, all share a common passion for changing their community for the better and taking an active role in creating a strong future for all. 
While all Leadership Bend graduates are invited to all LBAA events and programs, please consider becoming a paid member of the Association.  As a member, not only do you reap the benefits – you also help ensure long-term sustainable funding for the Leadership Bend program, continuing our evergreen pipeline of rising community leaders. 
A portion of your membership is a tax-deductible investment in scholarships, excellent programming and equity in opportunities.
Note:  Your employer or business may be interested in underwriting your membership as an investment in your network-building and continued community education. 
Join the LBAA today and enjoy deepening your relationships, expanding your knowledge and making an impact. together!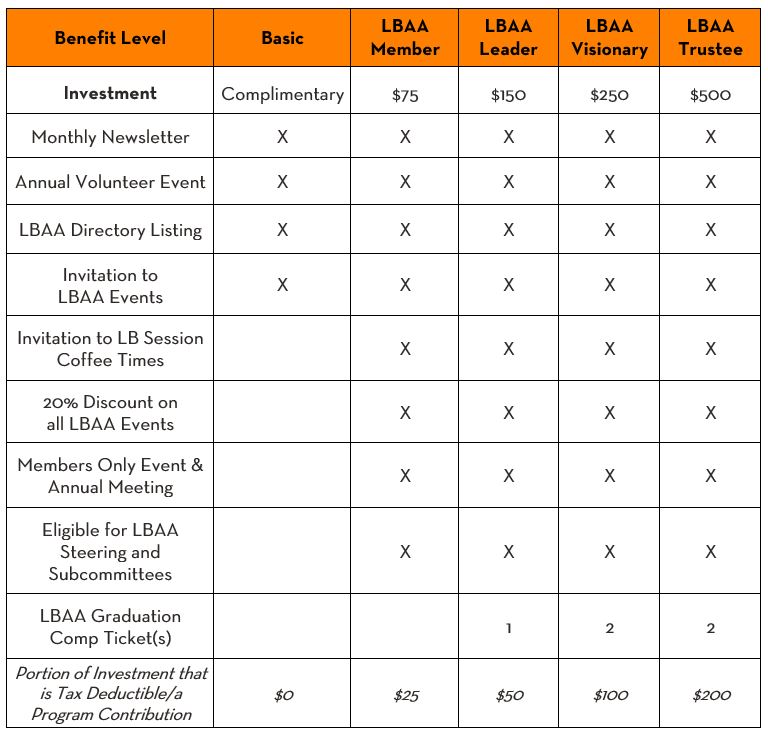 Would your or your company like to make a further investment in Leadership Bend or the LBAA? Please contact Chloe Crabtree for more information at Chloe@bendchamber.org.
Leadership Bend is supported by Taylor NW, St. Charles Health System, Pacific Power and many likeminded businesses who believe that a healthy community comes from investment in leadership.
LBAA Members
Renee Alexander, LB 2016
BBT Architects*
Renata Beck, LB 2003
John Bellman, LB 2019
ASI Wealth Management*
Mike Buettner, LB 2019
Conor Carlsen, LB 2008
Krista Charlton, LB 2020
Cody Cloyd, LB 2022
Rob Garrott, LB 2021
Colleen Goldblatt, LB 2015
Ben Hemson, LB 2017
Jessica Higgins, LB 2022
Invera Wealth Advisors*
Matt Kelly, LB 2022
Maggie Kirby Weiland, LB 2015
Fred Kroon, LB 2019
Sarah Lauderdale, LB 2020
Sarah Monkton, LB 2022
Best, Best & Krieger*
Patricia Nelson, LB 1997
Two Spruce Law*
Lauren Rose, LB 2017
David Rosell, LB 2003
Rosell Wealth Management*
Jeff Sanders, LB 2022
Mid Oregon Credit Union*
Angela Saraceno, LB 2022
Jo Wells,  LB 2022
LBAA Leaders
Shannon Bennett, LB 2019
Ideal You Weight Loss Center*
Stephanie Betteridge, LB 2020
Emily Boynton, LB 2022
Mosaic Medical*
Chloe Crabtree, LB 2022
BendNEXT/Bend Chamber*
Beau Eastes, LB 2018
Old Mill District*
Chad Hildebrand, LB 2020
Play Sports Bend*
Jeff Kitchens, LB 2018
Kelly Michel, LB 2018
Joshua Romero, LB 2018
Mike Szabo, LB 2015
Szabo Landscape Architecture*
Eric Webber, LB 2022
Morrison-Maierle*
LBAA Visionaries
Tom Headley, LB 2018
Century West Engineering*
LBAA Trustees
Ken Betschart, LB 2021
Jody Saffert, LB 2021
* indicates an employer that is financially supporting a Leadership Bend graduate's membership in the LBAA.
The Bend Chamber is actively supported by these Signature Investors