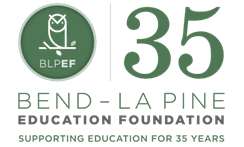 For the last 35 years, the Bend-La Pine Education Foundation has been able to support our students and staff in the Bend-La Pine School District. Because of the generosity of supporters LIKE YOU, students and educators in Bend, La Pine and Sunriver schools have benefited from:
opportunities for high need students to participate in after school activities, who would be unable to do so otherwise due to financial hardships,
innovative classroom programs that improve the quality of education in the areas of STEM, art, music & wellness; and
scholarships for graduating Latinx & high need students
There are over 17,500 students and 2100 educators and staff in our 33 schools; 40% of our students are served under Free & Reduced Meals, with some schools as high as 80%.The Education Foundation receives NO tax dollars and we are the only entity supporting these programs which enhance K-12 education in Bend, La Pine and Sunriver.
Today, the Education Foundation focuses on creating an equitable impact in our public schools – just as it did in 1988. We greatly appreciate your support – individuals, businesses and Grant partners.
From community events, foundation grants and donations from individuals and local companies, we are impacting the lives of educators and students in our community, THANK YOU!
As part of our celebration of 35 years of supporting education in our community, we are launching our new website and proudly displaying our new logo. Check it out and let us know what you think…thanks to Farewell Media for their hard work on our site and to our board member, Andy Frank for the fresh new logo!
We will celebrate our 35th year on November 15th at Worthy Brewing; honoring past board members, celebrating the generosity of our community and displaying some of the work from our grant recipients.
We had our biggest Trivia Night in May and we are looking forward to making our next one bigger and better on May 15, 2024!
For the first time in a long time we will be offering a Spring Classroom Grant Cycle for our educators. Details will come in the next update as we are hoping to secure more funding.
Read more on our efforts in our Annual Report to The Community here.
For more details on how you or your business can make an impact in our local public schools or become a sponsor, visit our website at www.blpedfoundation.org or contact our office for more details. Here's to the next 35 years!
Anne Westerhoff and Jamie Goldman, Executive Directors