.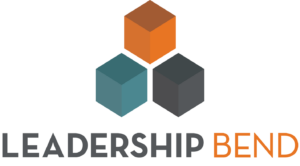 Have you ever wanted to know more about the Leadership Bend program, or are you planning to apply this year?
Please join us for an informational happy hour on May 10 at 5:15 p.m.  We'll give an overview of Leadership Bend, talk about the upcoming year, and outline what to expect from the program. Both staff and alumni will be on hand to answer questions.
Applications for the class of 2023 will open on approximately June 10, and close by July 15.  Up to 30 successful applicants will be notified in early August.
Details:
Leadership Bend Informational Happy Hour
May 10 | 5:15 to 6:30 p.m.
The Haven Coworking
1001 SW Disk Dr., Suite 250, Bend OR 97702
Free to attend, RSVP required.
Please RSVP to talena@bendchamber.org
About Leadership Bend
Building leaders is necessary for effective community succession planning. As one of the fastest-growing regions in Oregon and the northwest, the issues of Central Oregon have become increasingly broad and complex. Along with growth and rapid change comes and the need for well-informed and collaborative leaders to help successfully drive our future.
Leadership Bend is a community leadership development program designed to identify, educate and connect willing and committed citizens to leadership roles in our community.
During an initial two-day orientation retreat in early September, followed by nine full-day sessions scheduled once a month, participants will work with local leaders to expand awareness and understanding of the Central Oregon region. We will explore historical and current issues firsthand and learn about the unique challenges and opportunities that cross sectors and silos. Additionally, the cohort will benefit from a series of servant leadership topics designed to enhance individual leadership skills and together, make an impact through a class capstone project.
There now are nearly 600 Leadership Bend alumni who now serve as our community "trustees" through board service, elected office, and more. Leadership Bend is supported by Taylor Northwest and like-minded businesses who believe that a healthy community comes from investment in leadership.
2022 Leadership Bend Supporters