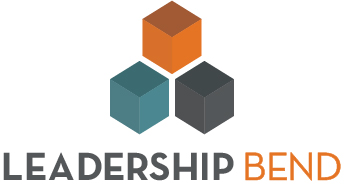 Program Enters Its Fourth Decade Engaging and Building Community Leaders
Selections have been made for the Leadership Bend Class of 2024, a non-profit civic engagement and leadership development program of the Bend Chamber, celebrating 30 years in 2023. Leadership Bend exists to identify, develop, educate and connect diverse leaders who impact the Central Oregon region through committed service to the community.
Participants are chosen from a broad cross-section of candidates from around the region who must undergo a significant application process. These acknowledged and aspiring leaders share a commitment to active participation in shaping the future of Central Oregon.
There now are nearly 600 Leadership Bend alumni, many of whom serve as our community "trustees" through board service, elected office, volunteerism and more.
Leadership Bend Class of 2024
Matt Appleby, BBT Architects
William Bailey, Deschutes County Sheriff's Office
Brittany Barker, City of Bend
Ben Berry, Morrison-Maierle
Hollie Choe, Transworld Business Advisors of Oregon Central
Shane Cochran, Wallace Group
Camilla Cok, Hennebery Eddy Architects
John Condon, City of Bend
Aric "Randy" Dean, Kernutt Stokes
Ben Haag, First Interstate Bank
Sarah Hutson, City of Bend
Shelley Junker, Bend Chamber of Commerce
Scott Maben, Bend-La Pine Schools
Paul MacClanahan, Cascade Civil Corp
TJ Murphy, Hite Digital Bend
Scott Nelson, St. Charles Health System
Eric Normen, Taylor Development LLC
Chris Petty, Express Employment Professionals
Sam Rivera, Hayden Homes
Kristi Runberg, St. Charles Health System
Chad Schlottmann, Skanska USA Building Inc.
Kayleen Schweitzer, COCC
Caitlin Sims, Washington Trust Bank
Daryl Stone, Microsoft
Colin Sutton, U.S. Bank
Alison Toivola, Best Best & Krieger LLP
Megan Tuttle, 10 Barrel Brewing Company
Bonnie Vieira, Columbia Healthcare Banking a Division of Umpqua
Fish Williams, East Cascades Works
The Bend Chamber believes building leaders is necessary to community succession planning. As one of the fastest growing regions in Oregon and the northwest, the issues have become increasingly more complex and the need for active leadership is great.
For the nine months of the program, participants will work with local leaders to expand awareness and understanding of the Central Oregon region. The class will explore historical and current issues firsthand and learn about the unique challenges and opportunities that cross sectors and silos. Additionally, the cohort will benefit from a series of servant leadership topics designed to enhance individual leadership skills and make an impact through a class capstone project.
Leadership Bend is supported by Taylor Northwest, St. Charles Health System and other like-minded businesses who believe that a healthy community comes from investment in leadership.
Leadership Bend is a 501(c)3 non-profit program of the Bend Chamber supported by local community resources. More information can be found at www.bendchamber.org/leadership-bend/.
###
The Bend Chamber of Commerce strives to create an environment where businesses, their employees and our community excel together through collaboration, advocacy, resources and leadership to meet Bend's business challenges.