57% of U.S. Companies Will Continue Onboarding Workers Despite Downturn
Latest Results from The Harris Poll
In a recent study, 57% of American companies indicate they will forge ahead with hiring despite a looming recession, highlighting a stark departure from the Great Recession of 2008 when unemployment hit 10%.
This is according to a recent survey from The Harris Poll commissioned by Express Employment Professionals.
As consumer sentiment fades along with CEO confidence, just more than half (51%) of U.S. companies feel the next recession will happen within the next year. However, around 1 in 10 (12%) are optimistic that there will not be another recession.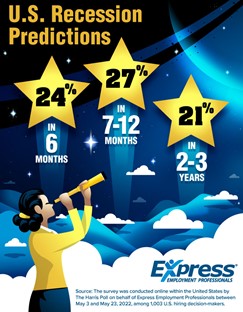 Looking to the future, if a recession were to occur soon, more than 2 in 5 businesses (44%) feel their company won't survive much longer. Service industries are more likely than professional services and manufacturing industries to say their company won't be able to survive a recession (50% vs. 40% and 34%).
The impact of this potential recession could extend beyond the company in general. Sixty-four percent of businesses feel it would have a major/moderate impact on the overall business and the company's hiring/recruitment needs (61%).
But companies don't appear poised to pump the brakes on hiring like in previous recessions as 30% will continue hiring but cut back on the volume of workers, and 27% anticipate extending offers as planned.
For businesses that expect to continue hiring as planned if a recession were to happen (27%), 89% of those will be full-time positions, 30% part-time and 27% seasonal, temporary or contract. This will include recent college grads (61%), vocational/career tech grads (45%) and college students (43%).
"In Central Oregon we have yet to see a slowdown of hiring in anticipation of an upcoming recession," said Chris Petty, Franchise Manager of the Central Oregon Express franchise office. "Many of our clients have found that temporary staffing can be an excellent way to safeguard their business to minimize the impact of a recession."
Increasing chatter around the possibility of a recession can be beneficial for workers and businesses to allow them time to prepare, according to Express Employment International CEO Bill Stoller.
"Predictions surrounding the length and impact of a recession vary widely, reinforcing the unusual hiring circumstances absent from previous economic slowdowns," he said. "No matter the conditions, it's wise to plan now for a likely recession ahead."
Survey Methodology
The survey was conducted online within the United States by The Harris Poll on behalf of Express Employment Professionals between May 3 and May 23, 2022, among 1,003 U.S. hiring decision-makers (defined as adults ages 18+ in the U.S. who are employed full-time or self-employed, work at companies with more than one employee, and have full/significant involvement in hiring decisions at their company). Data were weighted where necessary by company size to bring them into line with their actual proportions in the population.
If you would like to arrange for an interview with Chris Petty, call 541-389-1505.
About Express Employment Professionals
At Express Employment Professionals, we're in the business of people. From job seekers to client companies, Express helps people thrive and businesses grow. Our international network of franchises offers localized staffing solutions to the communities they serve across the U.S., Canada, South Africa, Australia and New Zealand, employing 586,000 people globally in 2021 and 10 million since its inception. For more information, visit ExpressPros.com.
The Central Oregon Express office is located at 61379 S. Hwy 97, Bend, Oregon and serves the Deschutes, Crook and Jefferson County region. Local businesses and applicants are encouraged to stop by, visit www.expresspros.com/bendor or call 541-389-1505