74% of Companies Say It's Key to Keeping Up with Demand
Latest Results from The Harris Poll
Facing a busy holiday shopping season with a shortage of workers, nearly 80% of U.S. companies believe automation could help their business, and 74% say it's the key to keeping up with current demand.
This is according to a survey from The Harris Poll commissioned by Express Employment Professionals.
With nearly two-thirds of U.S. hiring decision-makers (64%) admitting they waste time each week completing tasks that could be automated, it's not surprising that nearly half (49%) feel this tactic could help their company save time.
Saving money (42%) and increasing productivity (37%) are also among the top potential benefits of automation, while around 3 in 10 (31%) believe it could help streamline processes. Almost a quarter feel it has the potential to decrease employee workloads (23%) and/or minimize the number of errors made (23%).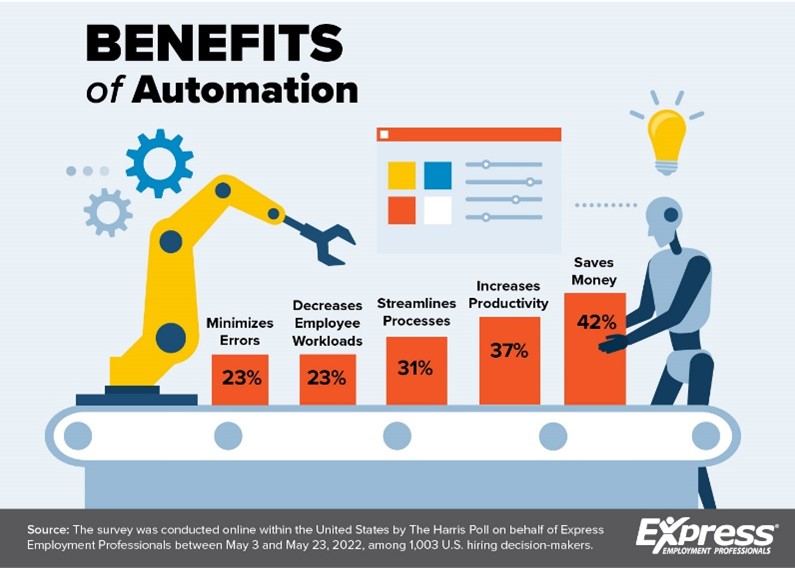 Automating Processes
More than a quarter of U.S. hiring decision-makers (27%) report their organization has adopted new technology to automate tasks/processes during this time. More generally across the company, they say their company automates an average of 27% of its hiring/recruiting functions. Forty-three percent add that they automate more than a quarter of their hiring/recruiting functions.
Unsurprisingly, companies with more than 500 employees are more likely than those with less than 500 to report a higher average of automated functions:
2-9 employees: 12%, on average
10-49 employees: 20%
50-99 employees: 23%
100-499 employees: 28%
500+ employees: 34%
Solving the Labor Crisis
In terms of using automation as a solution to the current labor shortage, 74% of hiring managers would be comfortable with their company increasing the use of automation to help solve this issue. Similarly, 64% say their company would be likely to use it for this purpose; 25% would be very likely. Automation may be just the solution companies are looking for, as many businesses (63%) feel they would increase the use of automation instead of hiring workers.
The best thing workers can do right now to prepare for a shift to automation is to invest in training to diversify their skills for future in-demand careers.
"Companies have been forced to find a way to keep their businesses up, and automation seems to provide a logical solution when so many workers are on the sidelines," Express Employment International CEO Bill Stoller said. "Instead of fearing it, automation could create opportunities for both employers and their staff to ensure business continuity and professional growth."
Survey Methodology
The survey was conducted online within the United States by The Harris Poll on behalf of Express Employment Professionals between May 3 and May 23, 2022, among 1,003 U.S. hiring decision-makers (defined as adults ages 18+ in the U.S. who are employed full-time or self-employed, work at companies with more than one employee, and have full/significant involvement in hiring decisions at their company). Data were weighted where necessary by company size to bring them into line with their actual proportions in the population.
If you would like to arrange for an interview with Chris Petty, call 541-389-1505.
About Express Employment Professionals
At Express Employment Professionals, we're in the business of people. From job seekers to client companies, Express helps people thrive and businesses grow. Our international network of franchises offers localized staffing solutions to the communities they serve across the U.S., Canada, South Africa, Australia and New Zealand, employing 586,000 people globally in 2021 and 10 million since its inception. For more information, visit ExpressPros.com, and find more employment insights at ExpressPros.com/AmericaEmployed.
The Central Oregon Express office is located at 61379 S. Hwy 97, Bend, Oregon 97702 and serves the tri-county region (Deschutes, Crook & Jefferson Counties).  Local businesses and associates are encouraged to stop by, visit www.expresspros.com/bendor or call 541-389-1505.
About Bill Stoller
William H. "Bill" Stoller is chairman and chief executive officer of Express Employment International. Founded in Oklahoma City, Oklahoma, the international staffing  the Express Employment Professionals franchise and related brands. The Express franchise brand is an industry-leading, international staffing company with franchise locations in the U.S., Canada, South Africa, Australia and New Zealand.