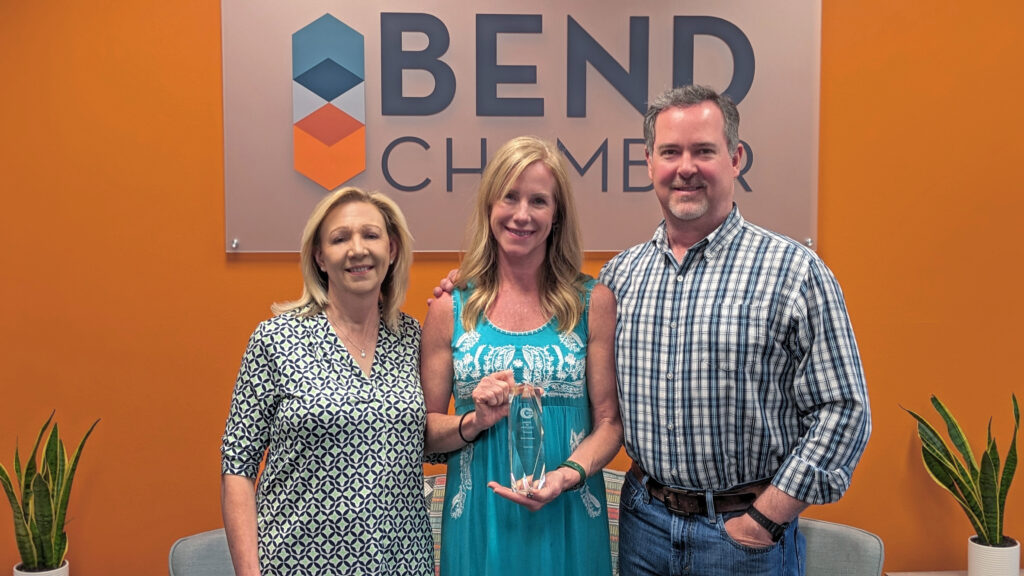 Pictured Left to Right: Lisa Nielsen, Bend Chamber Marketing Lead, Melanie Herron, MindStream Creative Owner, and Garrett Jaenicke, Bend Chamber Director of Marketing & Member Services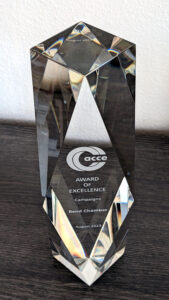 The Bend Chamber has been named one of 12 Communications Award of Excellence winners by the Association of Chamber of Commerce Executives (ACCE). ACCE is an association based in Alexandria, Va., that has over 1,600 chambers of commerce and related business and economic development organizations as members, representing more than 9,000 professionals in the industry.
ACCE's Awards for Communications Excellence (ACE) program, generously supported by Meta, is designed to showcase top communications and marketing work of chambers of commerce and similar organizations. ACE Awards are judged by industry peers. This year's panel was comprised of 14 U.S.-based chamber communications and marketing professionals. Entries were organized by category—based on the chamber's annual revenue—and entry type: campaigns, print and electronic publications, videos, and websites and apps.
"Chambers of commerce play a critical role in driving success for their communities," said ACCE President & CEO Sheree Anne Kelly. "Chambers are natural conveners, sharing stories that inspire and spur action. That creativity in communications, paired with catalytic leadership and visionary thinking, is what earned them this well-deserved recognition."
Bend Chamber was named an Award of Excellence winner for the social media campaign supporting their workforce housing initiative. In 2021, the Bend Chamber took on workforce housing as a key, long-term initiative. In 2022, a sustained social media campaign was implemented to help. The chamber developed four messaging streams:
I Am Bend—Shows faces and tells stories as examples of the types of positions that the workforce housing initiative focuses on.
Information/Education—Utilizes data, statistics and perspectives to help show the extent of the issue, shares community feedback and dispels misconceptions.
Explainer Videos—Showcases those involved in the initiative and quickly explains new concepts in solutions, why the situation is what it is and how processes work.
Accessory Dwelling Units (ADUs)—Educates public on the process and benefits of why building an ADU is important.
The campaign generated over 600,000 impressions across LinkedIn, Facebook and Instagram and prompted over 40,000 engagements on those channels. MindStream Creative, a boutique marketing firm in Bend, played a key role in the planning and execution of the campaign.
"We're thrilled to be recognized for the work we've done on the workforce housing initiative social media campaign," shared Garrett Jaenicke, Bend Chamber Director of Marketing and Member Services. "It is an honor to receive this award and it reflects the level of dedication, professionalism, and excellence that the Bend Chamber strives for in all of its marketing and communications," he continued.
To view samples of the social media campaign,

click here

and follow us on

LinkedIn

.