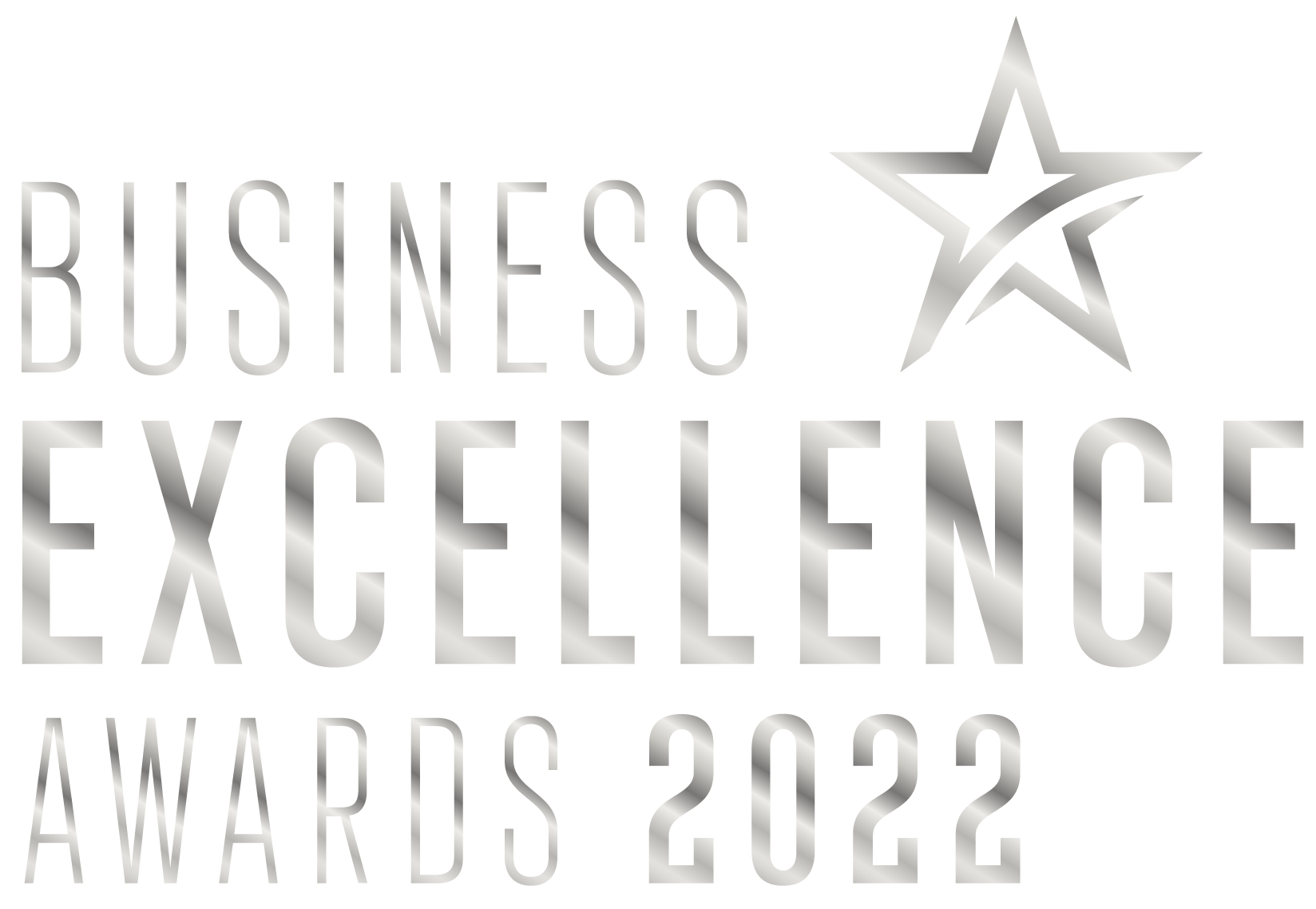 March 3   |  5:30–8:00 p.m.  |  Riverhouse Convention Center
The Bend Chamber Business Excellence Awards is the evolution of our historic annual business awards event. These awards celebrate the outstanding achievements made by Chamber members in 2021 across three categories: Innovation, Inspiring Workplace, and Community Stewardship. Awards categories of Emerging Leader and Lifetime Achievement recognize individuals for their contributions to their places of business and the community at large.
EVENT SCHEDULE
5:30: Doors Open
5:30–6:15: Heavy Appetizers & Cocktails
6:15–7:15: Awards Ceremony
7:15–8:00: Networking & Cocktail Hour
COST: $60.00
Dust off your "Bend" formal wear and join us for appetizers, drinks and networking to celebrate
each organization's inspiring accomplishments. We look forward to seeing you there!
COVID-19 Safety Protocols Will Be in Place
Due to the rise of the Omicron COVID-19 variant, we will be requiring either proof of vaccination or a negative COVID test within 72 hours before this event. Masks will be required when not eating or drinking. We appreciate your cooperation.
Congratulations Award Recipients!
Synergy Health & Wellness
SMALL ORGANIZATION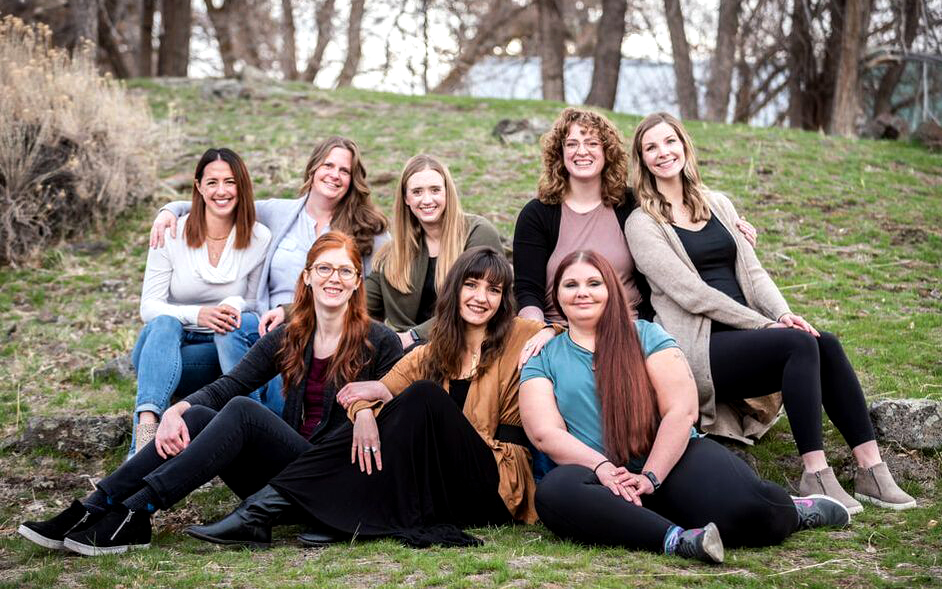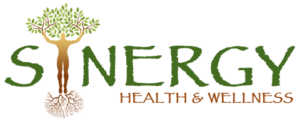 Synergy Health and Wellness encompasses a wide variety of specialties through massage therapy and the registered dietitian nutritionist team. Together, they work with recreational to professional athletes, employees with work-related or on-the-job injuries, victims of auto-related injuries and car accidents, people with acute or chronic disease, or those just looking to discuss food and body concerns or improve their total health. This last year, Synergy revolutionized the group diabetes education classes that provide a holistic approach to self-empower attendees to stay on track with their diabetes treatment, nutrition, and overall health. This has been a unique innovation to Central Oregon and its industry.
"We are beyond honored to receive this recognition. I'm thrilled that our team gets to see all of their hard work and efforts towards providing patient-centered care acknowledged and celebrated. This fuels our fire to keep going, keep thinking outside of the box, and continue to provide the kind of health care that we all want to receive."

— RanDee Anshutz, Founder
OSU-Cascades Innovation Co-Lab
LARGE ORGANIZATION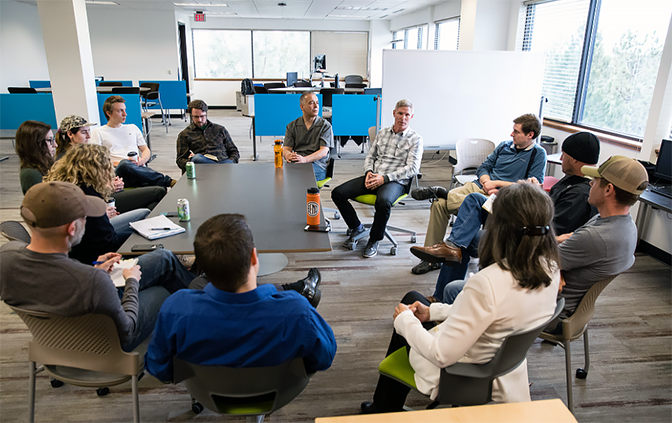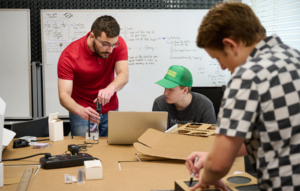 The Innovation Co-Lab is a department of Oregon State University-Cascades that helps innovators turn their ideas into reality. At the same time, they train the innovators of tomorrow by giving them experiential learning opportunities to help grow their place of business. One of the most significant projects that the Co-Lab took on during the pandemic has enabled the Central Oregon Intergovernmental Center to distribute $11 million in state and federal emergency grant funding to date. OSU-Cascades students often lead the Co-Lab with oversight from the university. OSU-Cascades continues to approach community challenges with unique solutions while empowering their students and other local organizations.
"This award is a result of the community in Central Oregon that supported us as we grew a new campus. As a result of your support, we will continue to serve the community through innovative projects, grow our workforce, and grow our economy."

— Adam Krynicki, Executive Director, Innovation Co-Lab
Volunteers In Medicine
SMALL ORGANIZATION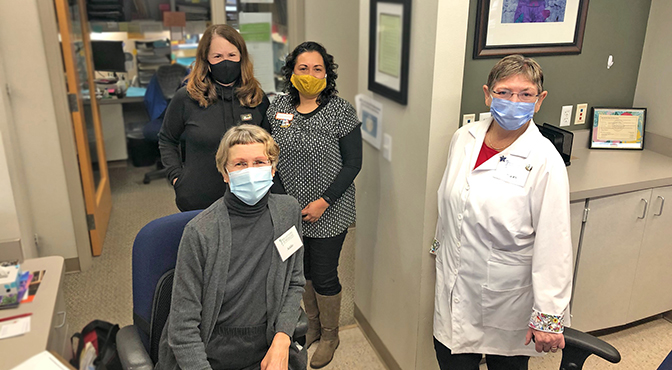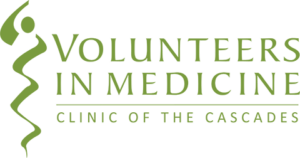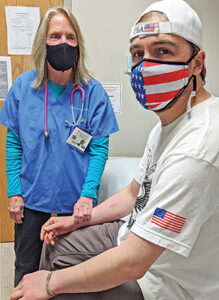 Volunteers in Medicine (VIM) hosts a large force of volunteers that are the heart of their work. Ranging in age from 18–80, their volunteers fill the roles of doctors, nurses, interpreters, and eligibility screeners. Everyone in their organization wears multiple hats with the common goal to help those in need of medical care. VIM is a leader in the way it prioritizes employee wellbeing. From employee medical benefits and retirement matching to balancing work-life balance, they go above and beyond for their employees.
"Throughout the growth of our organization, our leadership team has always kept the best interests of our patients, volunteers, and staff at heart. We are thrilled to be recognized for the choices we feel are essential to building a strong, collaborative, encouraging, and inclusive community within our workplace."

— Mary Overman, Philanthropy and Community Engagement Officer
Stahancyk, Kent & Hook
LARGE ORGANIZATION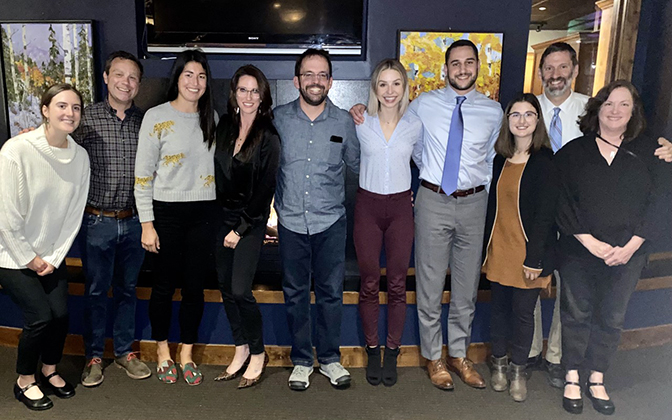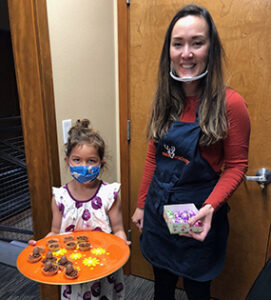 Founded in 1986 with a dedicated focus on providing clients exceptional legal services and outstanding customer service, Stahancyk, Kent & Hook (SK&H) will focus on equipping their clients with resources for divorce, custody, modification, will, trust or any other matter related to family law. No matter their hours worked, most employed professionals receive some level of healthcare and retirement benefits, such as a 401K. In addition, they offer opportunities for students to intern within their organization and have established programs and services to enhance their employees' physical and mental health.
"Stahancyk, Kent & Hook wishes to thank the Bend Chamber for this amazing award. The only thing more fun than being innovative and inspiring is getting other people to join us in our quest to never rest on our laurels."

– Keller Christensen, Branding and Facilities Manager
Latino Community Association
SMALL ORGANIZATION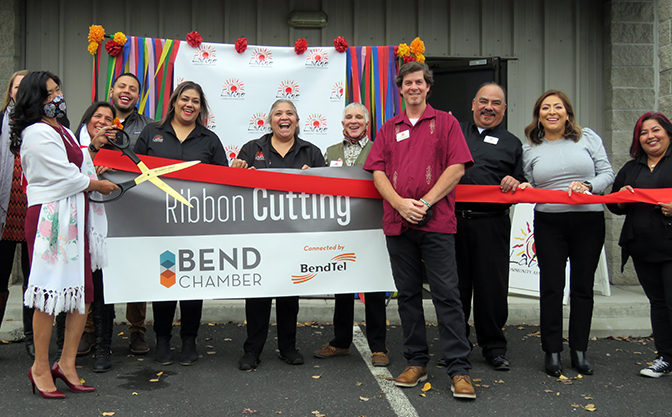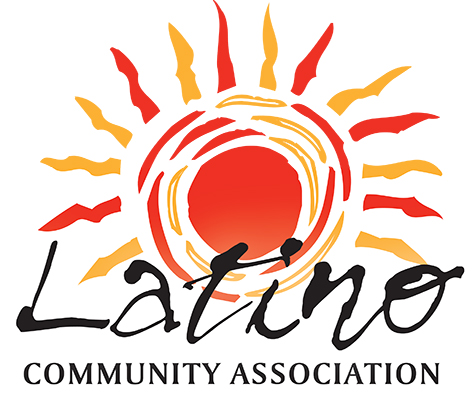 Latino Community Association (LCA) is an essential connecting point for our immigrant community to ask questions, have letters translated, get help making phone calls (interpretation) and negotiating payment plans (advocacy). They help families pay their bills, file their taxes, work through legal issues, find work, improve their English and connect to new opportunities. Most recently, LCA has participated on the Oregon Worker Relief Fund coalition leadership team to provide application assistance to connect families in Bend who lost work due to COVID to direct cash assistance. They continue to use their resources to advocate for human rights and equity. This is just the tip of the iceberg for the many different projects and programs they spearheaded throughout the pandemic.
"It is an honor to be recognized and awarded for the incredibly compassionate work our team has done during the past year. We managed to successfully pivot to provide emergency pandemic relief while continuing to deliver our critically important core services. It's been a true test and we have emerged stronger than ever."

— Brad Porterfield, Executive Director
Mosaic Medical
LARGE ORGANIZATION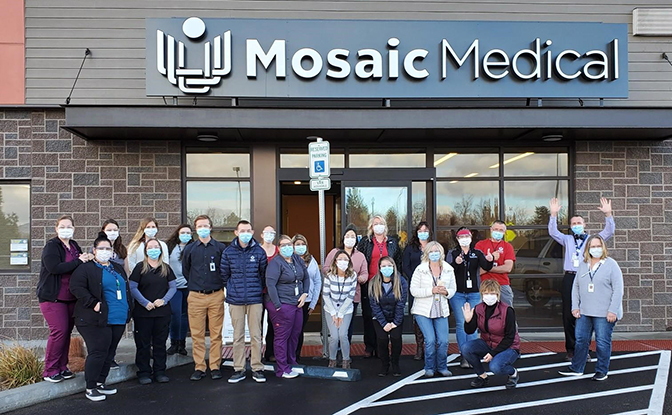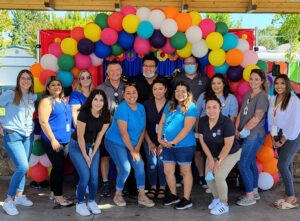 Mosaic Medical is a nonprofit community health center that serves Central Oregonians from all walks of life. Through a network of 15 clinics, they offer health services that address each patient's medical, dental, mental health, nutrition and medication needs. The quality of their care is never influenced by how much money their patients make, what language they speak, or the status of their insurance coverage. In 2021, Mosaic opened their new Conners Health Center on Bend's Eastside, which was built in partnership with Housing Works to provide rental assistance for low and middle-income Central Oregonians. In addition, they are working on expanding their reach into rural areas of Central Oregon and Jefferson County.
"We are honored to be acknowledged with this award, which recognizes our Mosaic staff for all of the 'above and beyond' work they have done on behalf of our community during the last year. As a mission-driven nonprofit organization dedicated to serving all, we truly appreciate this heart-warming recognition of our work and our dedication to the community."

– Elaine Knobbs-Seasholtz, Director, Strategy and Development
Tyler Fix
EMERGING LEADER CO-RECIPIENT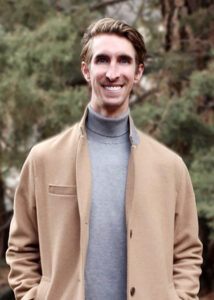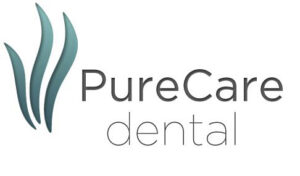 Tyler Fix is an Associate Dentist at PureCare Dental in Bend, Oregon. In addition, he also serves as a Philanthropy and Community Engagement Officer for Volunteers in Medicine Clinic of the Cascades. His mantra has always been to humanize, personalize, and modernize the dental experience for his patients. Through his time in both of his roles, he has curated a practice philosophy centric to "helping patients keep their teeth for a lifetime." He is also proud to have become a healthcare provider that many people with dental anxiety find comfort with. Through his efforts, their influx of anxiety-driven patients has increased dramatically over the last few years.
"It is an honor to be the co-recipient of the Emerging Leader Award this year—I am especially aware of many other young leaders also accomplishing incredible work for the city. I am proud to be a part of a developing leadership community that is dedicated to stepping up, saying "yes," and serving Bend in diverse capacities."

— Tyler Fix
Brittania Leja
EMERGING LEADER CO-RECIPIENT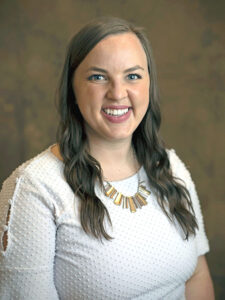 Brittania Leja is the Associate Organizational Development Consultant at St. Charles Health System. Whether it be dialogue with her Human Resources teammates, coaching a new St. Charles leader, facilitating a Bend YP Advisory Council discussion or teaching a new concept to a class of caregivers, she thrives off the human moments when individuals share their current challenges and can guide and support each other to discovering their next steps. She believes that different life experiences and perspectives genuinely help move the collective community in a greater direction.
"Wow! I'm truly honored and grateful to be co-selected for this award! It has been such a joy learning and growing in the Bend community, both personally and professionally and I can't wait to celebrate with the other recipients at the Business Excellence Awards!"

– Brittania Leja
Please check back on January 26 when we'll announce the awardee!
Learn more about each recipients' accomplishments at the Business Excellence Awards
on March 3 at the Riverhouse Convention Center.
If you have questions about the Business Excellence Awards, please contact Finn Leahy, Events & Programs Lead at finn@bendchamber.org.
 Thank you to our sponsors and media partners!
The Bend Chamber is actively supported by these Signature Investors