Political Action Committee
Get involved!
The Bend Chamber PAC is an independent Political Action Committee, operating under the umbrella of the Bend Chamber of Commerce. The PAC utilizes the chamber's non-profit, advocacy 501(c6) status, and funded entirely from PAC-specific donations.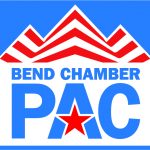 The focus of the PAC is to endorse and financially support local candidates that have a solid understanding of the business community within Central Oregon. We believe that small business is the heart of a community and we strive to ensure that the business environment in our city is strong, prosperous and easy to navigate. The Chamber PAC seeks to support diverse candidates that understand the uniqueness of our community, it's livability and how responsible and forward looking policies fit with the long term vision of Central Oregon.
Key policy priorities for the Bend Chamber of Commerce include:
Economic vitality, workforce development and innovation that lead to a vibrant business community
A diverse, equitable and inclusive chamber membership, workforce and business community
Increase the supply of housing that is affordable and attainable to support Bend's growing population
Support for transportation and infrastructure projects to alleviate traffic congestion and plan for future growth
Access to affordable, high-quality child care for infants, toddlers and preschool age children
A thoughtful balance between environmental sustainability and economic health
The PAC is composed of seven members, including Chamber leadership and at-large members, and is dedicated to working with the community in the following ways:
Promote engagement in local government affairs by encouraging active participation of Chamber members, business owners and residents
Solicit and receive contributions to provide local campaign contributions to candidates who have demonstrated a solid understanding of the interests of Bend businesses and the community
Assist Chamber members, business owners and residents in organizing for more effective political and civic engagement
For additional information about the PAC and learn about how you can get involved, please contact Chamber PAC staff Sara Odendahl at clearwaterstrategy@gmail.com.
The Bend Chamber is actively supported by these Signature Investors