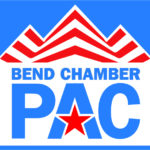 The Bend Chamber Political Action Committee (PAC) provides an opportunity for those who want to support business-forward, long-range thinking elected officials at the local level. The PAC was founded to identify candidates who understand the need to support the economy and businesses in Bend, while being dedicated to a thriving community in Bend.
Although the PAC utilizes the chamber's non-profit, advocacy 501C-6 status, it is funded entirely from PAC-specific donations and is separate from memberships. Seven committee members are designated from the PAC's donors.
Bend Chamber PAC Purpose:
1.     Promote and strive for improvement of non-partisan government by encouraging chamber members, business owners and employees to be active in local government affairs.
2.     Solicit and receive contributions to provide financing to local campaigns of candidates who have demonstrated understanding of the interests of Bend businesses and the community.
3.     Assist chamber members, business owners, employees and others in organizing for more effective political actions, and in carrying out their civic responsibilities.
For more information, contact Bend Chamber PAC Chairman Troy Reinhart at troy@northwestquadrantwealth.com.