Join the City Club of Central Oregon (CCCO) and nationally recognized land use expert Bill Fulton, as he explores what makes Oregon's land use system unique, and its strengths and weaknesses compared to other systems in the U.S.  At 50 years old, Oregon's land use system has shaped our landscape, cities, economic development and public policy.
"This forum presents an unique opportunity for our community to learn, reflect and find agreement around issues in our land use system," said Kim Gammond, Executive Director at the City Club of Central Oregon.
Following Fulton's presentation, CCCO will host a discussion with him and representatives from the development and conservation community, focusing on what they find successful in this system, what is frustrating, and how it could be improved.
Keynote: Bill Fulton
Panelists:
Bill Fulton, William Fulton Group
Ben Gordon, Central Oregon LandWatch
Dave Honnicutt, Oregonians in Action and Oregon Property Owners Association
Moderated by Brenna Visser, Land Use Communications Coordinator at the City of Bend
Forum Details
Event: Open Spaces and Open Houses? The Tradeoffs in Oregon's Land Use System
When:  June 15, 2023
Time:  8:30 a.m. – 10:30 a.m.
Where: Unitarian Universalist Fellowship of Central Oregon, 61980 Skyline Ranch Road
Bend, OR 97703
Register and more information here: https://cityclubco.org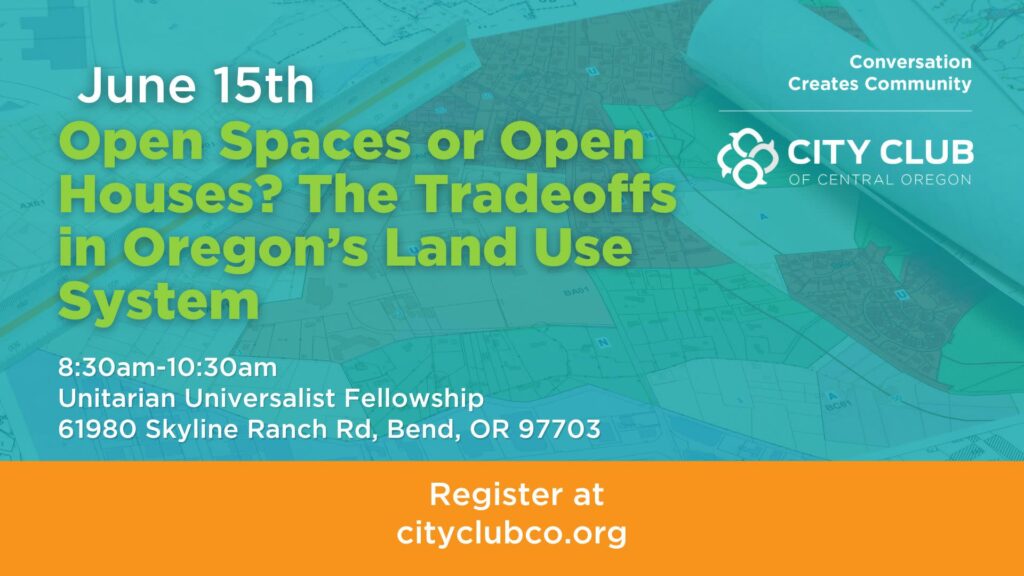 ###
City Club of Central Oregon exists to be the top-of-mind hub for citizens and community leaders. We intentionally shape our community and influence public policy while preserving our uniquely warm and connected culture. We champion "passionately non-partisan" discussion between diverse perspectives. To learn more, please visit our website at cityclubco.org.