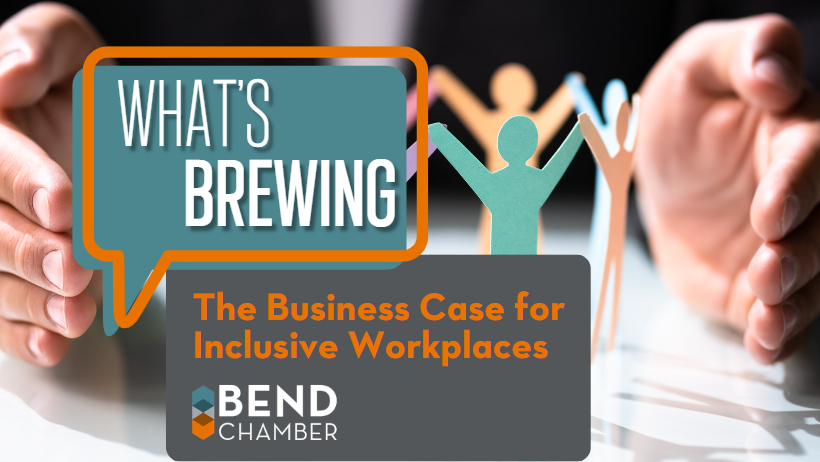 What's Brewing: The Business Case for Inclusive Workplaces – February 9
Come and learn why building welcoming workspaces can strengthen your team in various ways:  from improved employee recruitment and retention all the way to measurable increases in net revenue. This conversation will feature local business leaders who successfully implement inclusive practices in their organizations and have concrete examples to share.  Participants will come away with a clearer understanding of the value of inclusion and critical resources for follow-up.
This informational session will also serve as a foundation for workplace leaders, boards of directors and HR professionals who opt to attend a full 2-day Inclusivity Workshop at the Deschutes County Fairgrounds on February 28 and March 1.  Brought to you by local HR organizations and businesses, this workshop is all about learning how to begin or further develop your practices related to inclusion and equity in your workplace."
Before and after our speakers, we'll have plenty of time for networking — plus bites and beverages.
Doors open at 5:00PM
Program starts at 5:30PM
Networking 6:45–7:30PM
$25 Members, $40 Non-members,
$30 for Members at the door, $45 for Non-members at the door
You may cancel your ticket for a full refund up to 48 hours before the date and time of the event. Cancellations with less than 48 hours' notice will not receive a refund. When you register for an event, you agree to these terms.
TODD
DUNKELBERG
Director, Deschutes Public Library
Todd Dunkelberg is the director of the Deschutes Public Library. He began his library career as a children's librarian after graduating from the University of Texas library school. In 1999 he moved to Central Oregon to manage the Redmond Library. He was promoted to library director in 2009.
HEATHER MCKENDRY
Learning and Organizational Development Lead, ProShop ERP
Heather McKendry (she/her/hers) is the Learning and Organizational Development Lead at ProShop ERP. She thrives on collaboration, big-picture thinking, strategic project management, and the relational side of business. An accomplished leader with diverse business experience, McKendry's expertise is in creating the conditions necessary to foster inclusive communities and bring about transformational shifts in organizations and people. She's a "hybrid thinker," someone that uses both sides of her brain when working with organizations whose mission resonates with her desire to make a difference in the world. Outside of work, McKendry sits on the DEI Committee for  Central Oregon Society for Human Resource Management and appreciates the simple joys that come from cooking with her wife and watching her dogs happily frolic in the woods.
JOSHUA ROMERO
Sr. Program Manager, Employee Experience and Engagement, City of Bend
Joshua Romero is the senior program manager for the City of Bend's BOLD Program. This new employee experience and engagement program was established in the fall of 2022 and focuses on employee belonging, organizational development and leadership development to support employee success. He was recently featured in a Wall Street Journal article highlighting this fifth-fastest-growing job in the U.S.
STEFANIE SIEBOLD
Certified Coach, PIQue Coaching and Strategy
Originally a workforce development director
Certified coach through the International Coaching Federation (ACC) and Coach Training Alliance (ACTP)
Certified Predictive Index Talent Optimization Consultant
PQ COACH™ through POSITIVE INTELLIGENCE®
Executive certification in Diversity and Inclusion from Cornell University
BA in Leadership and Organizational Development and MA in Public Administration
25+ years of experience managing and leading teams
Passionate about workforce diversity and creating safe and inclusive environments where everyone can thrive
Presenter
JODY SAFFERT
DEI Chair for Central Oregon SHRM, St. Charles Health System
Jody is a passionate and credentialed talent management and development leader with expertise in learning and performance, organizational development, process improvement, change leadership, leadership coaching, leadership development, diversity and inclusion, and human resource management. In his community, he serves as the chair of the Bend Chamber Leadership Bend Alumni Association and the Diversity, Equity, and Inclusion Chair of the Central Oregon Society for Human Resource Management.
Cost
$25 Members, $40 Non-members | AT THE DOOR: $30 for Members, $45 for Non-members
Location
Tetherow Resort Event Pavilion
61240 Skyline Ranch Rd