[acx_slideshow name="Women of the Year"]
Photos by The Hidden Touch Photography: VIEW ALBUM
"We are very fortunate to have many inspiring female leaders here in Central Oregon.  Until The Women of the Year Awards began in 2015, there were limited opportunities to formally recognize women for their unique contributions and accomplishments.  This event has provided a platform to recognize women, and to inspire a future generation of community leaders.   At U.S. Bank we draw strength from diversity and we believe in powering potential.  Our sponsorship of The Women of the Year Awards aligns closely with these core values."  Wendy McCrane, VP, Commercial Banking Team Leader, US Bank​
On Wednesday evening, more than 250 attendees gathered at the Tower Theatre to celebrate and honor women from throughout Central Oregon at the Bend Chamber's inaugural Women of the Year Awards.
"Overall the entire evening exceeded the Bend Chamber's expectations," said Robin Rogers, senior vice president of programs and events for the Bend Chamber.
An impressive panel of eight judges selected the following recipients for the Women of the Year Awards:
Woman of the Year: Becky Johnson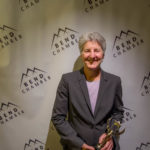 Becky Johnson was appointed as Vice President for OSU-Cascades in May 2009, after serving as the interim leader since December 2008.  She has full responsibility for the OSU-Cascades campus, the only branch campus in Oregon.
The community had been kicking around the idea of a four-year University for over twenty years, without a lot of forward progress.  She had the leadership skills to transform the dream of a four-year University in Bend into an achievable plan. OSU-Cascades has already issued 2,408 degrees and has a current enrollment of 1,172.
Becky is well known in Salem, as she testifies in support of the campus and meets with legislators and other officials to ensure OSU-Cascades secures necessary resources.  Her leadership has inspired the local community and private and public foundations to contribute more than $7.3 million to the campus expansion, endow a faculty position, fund scholarships and launch new programs
"Becky's arrival in Central Oregon was one of the best things to happen to this community in a long time.  She has built OSU-Cascades into what will be a major educational institution and accelerated the economic and cultural growth of all of Central Oregon," said Mike and Sue Hollern.
Young Woman of the Year: Kristina Guerrero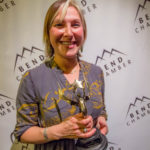 Kristina graduated from the US Air Force Academy in 2002. She is a decorated US Air Force Veteran, and recipient of two Combat Air Medals for missions flown in support of Operation Enduring Freedom, Operation Iraqi Freedom and Horn of Africa.
Kristina founded TurboPup, an energy bar for dogs, in 2012. In 2014, Kristina was selected by the television show Shark Tank to pitch TurboPup for investment funding. She was chosen to be a contestant on the show, which aired Jan. 16. Her performance secured her a 100,000 investment from Daymond John. She also recently received a $25,000 prize for her business plan.
When she's not nurturing TurboPup, Kristina serves diverse populations as an occupational therapist and as a volunteer for Deschutes County Search and Rescue.
Kristina is an inspiration to young women to pursue their dreams. She shared her experiences with the intent of inspiring and helping other female entrepreneurs.
Community Hero Award: Betsy Warriner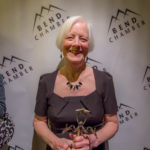 Betsy Warriner has been a schoolteacher, a counselor, a college staff member, a community organizer, and is now an executive director of Volunteer Connect. Betsy founded Volunteer Insights, a service learning organization for school and college students. After running the organization for six years, she expanded the organization to become Central Oregon's first region-wide volunteer center and renamed it Volunteer Connect impacting the communities of Bend, Redmond, Sisters, and Prineville. Through Volunteer Connect, hundreds of volunteers have connected with over 130 community organizations.
Betsy is a passionate volunteer and a dedicated leader devoting her time, talents and values to serve the greater Bend community. She believes volunteering is at the heart of what makes a community strong and sustainable and she lives out that value in her local civic commitments. Bend community members perceive Betsy as a tireless champion for making Bend a great place to live, work, play and volunteer.
Young Hero Award: Bella Wiener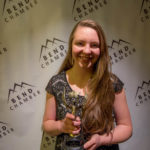 When Bella Wiener was in the fourth grade, she traveled with her mom to Kenya, Africa. She volunteered with Nomad Charities in a small medical clinic, which gave birth to the passion she is pursuing today: a commitment for women's health issues.
In June, Bella will climb Mt. Kilimanjaro as part of her own fundraising effort for Sustainable Health Enterprises. She hopes to raise $100,000 for the organization that helps jumpstart social businesses to manufacture and distributed feminine products.
In addition to her passion for women's issues, Bella is an elite swimmer, a local community service advocate, vice president of Bend High's Gay/Straight Alliance and a tutor for children with special needs.
She is currently applying to elite colleges for the fall of 2015 and plans to pursue a career in the medical field.
The Bend Chamber received 47 nominees in total for the four awards categories. Nominations were open to both Bend Chamber members and non-members.
"The caliber of nominees was extraordinary and the recipients were truly deserving of this recognition," Rogers said. "However, to me, they are all winners because they are all amazing women who have demonstrated their commitment to the betterment of our region."
The awards were intended to spotlight women who have excelled in their careers and have made outstanding contributions to the community.
"This is the first of many Women of the Year Awards to come," Rogers said. "We look forward to honoring more women next year."