According to the 2015 U.S. Bank Small Business Annual Survey, Oregon small business owners are feeling better about the national economy this year, but skeptical about the local economy and business conditions in the state.
Now in its sixth year, the survey polled 3,402 small businesses during the first quarter of 2015, including 200 in Oregon, with $10 million or less in annual revenue across the 25 states where U.S. Bank provides small business banking services. The survey reveals trends in economic sentiment, issues of greatest concern to small business owners, plans for future hiring and capital expenditures, innovation and more.
"Our small business customers are telling us that they're cautiously optimistic about the health of the economy, and many are expressing interest in growing their companies through the acquisition of new equipment and/or new technologies," said Coby Horton, regional president for U.S. Bank in Central and Eastern Oregon. "While many are keeping elevated cash on hand, we're beginning to see those cash deposits being utilized to finance investments in their businesses."
Economic Outlook
Seven in ten (70 percent) of Oregon small business owners believe the national economy is in a recovery or expansion, up from 53 percent last year and slightly higher than the 67 percent national average. However, on a local level, 54 percent describe small business conditions in Oregon as fair or poor and 41 percent describe the state economy as weaker than the national. Across the country, only 25 percent of small business owners described their state's economy as weaker than the national. The reasons Oregon owners most commonly cite are higher taxes and regulations. Looking at their own businesses, nearly three-quarters (72 percent) describe the financial health of their business as good, very good or excellent.
Describe the financial health of their business as good, very good, excellent: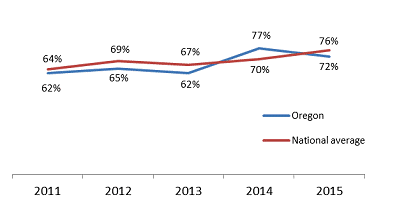 Investing In Their Business
Oregon small business owners remain cautious when making significant investments in their business. Just 25 percent are likely to make a capital expenditure in the next year, compared to 34 percent nationally, and 14 percent say they plan to add to staff in the next year, lower than the 25 percent nationally. Fittingly with this hesitance, they say borrowing's at a five-year low while access to capital remains high.
Have borrowed or tried to borrow money for business purposes over the last 6 months: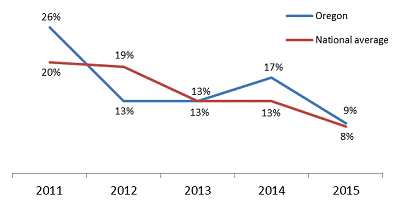 Describe their business' ability to borrow money as easy: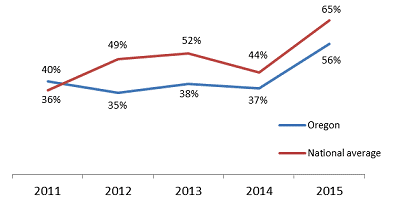 National Issues
Oregon small business owners cited national security as the top national issue, a change from last year when jobs and unemployment took the top spot. Nationally, healthcare slightly edged out national security as the top issue. In Oregon and across the county, about half of small business owners said that the Affordable Care Act would have a negative long-term impact.
Mobile Technology & Social Media
Small business owners in Oregon and across the country continue to embrace mobile technology. At the state level, 75 percent (compared to 75 percent nationally) said they have integrated mobile technology into their business strategy, whether through mobile banking, social networking, web design, payments or other uses.
Beyond that, social media is playing a greater role in small business owners' strategies. In addition to looking to new technology to position their businesses in the marketplace, 60 percent of Oregon small business owners (compared to 67 percent nationally) maintain a social media presence to make connections, find talent or market their business. Those who maintain a presence said that Facebook was most effective, followed by LinkedIn.