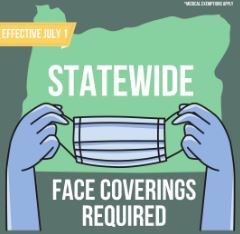 Katy Brooks, CEO, Bend Chamber of Commerce
The Fourth of July holiday has raised anticipation and anxiety for businesses and those tracking the trends in COVID-19 cases. Businesses, hungry to get customers in the door as they continue to try to recoup losses due to the stay-home order are eager to serve, but they are now being asked to be an enforcer of face coverings and distancing. That's about as much fun as a downpour during the fireworks.
The fact is that if we don't stabilize the COVID-19 cases in Oregon, we may be setting ourselves up to regress to Phase 1, or worse, another stay-home order. To help keep people safe and our economy open, Governor Brown has mandated wearing face coverings in public indoor spaces. Just in time for the holiday.
Businesses are not happy about acting as an enforcer of the new mask mandate. I've heard some business owners say their staff refuse to wear face coverings if they are in a "back of the house" position without face-to-face exposure to customers. Their employees are dealing with angry customers who refuse to wear face coverings or keep their distance. Aside from the no shirt, no shoes, no service mantra, enforcing what you wear is a new and uncomfortable experience for businesses.
But here's the bottom line from the Governor – we have to lower the rise of COVID-19 cases and stabilize the curve, or we threaten our ability to keep businesses open and our economy moving. If cases continue to rise it also might mean our children don't go back to their schools in the fall. This is serious.
My plea to our beloved customers and clients is to do some simple things to help slow and reverse the increase of Coronavirus cases and keep businesses open. Wear a face covering any time you're inside and stay six feet away from others not in your 10-person "designated unit." Business owners find it very difficult to ask you to do this. They want you to enjoy your experience and they don't want their employees to be in uncomfortable confrontations with those who don't wear masks. But what they really need is to stay open. Help them do that.
As business owners and operators, the task of communicating these new rules falls upon you. Here are a few ideas on how you can help customers understand why they need to wear a mask:
 Acknowledge this is a change and awkward
Agree that masks, well, suck. I can't wait until a time when we don't have to wear them.
Share a story of how difficult it has been to operate under COVID-19 guidelines.
It will impact your business:
The Governor has mandated the use of face coverings. This is no longer your choice.
OSHA is now enforcing businesses on following face covering guidelines – you could get fined.
Put up a sign that reinforces that masks are required by state mandate – have your employees point to it, it's not their choice.
 The risk of more closures is real and the benefit of staying open is important to everyone
The risk of getting COVID in your business is low, but the risk of businesses shutting down again if numbers across the state continue to grow is high.
Every day that the number of new cases decline makes it more likely that you can stay open and the virus is under better control.
Taking care of your employees and customers
Wearing face coverings and keeping a distance will help protect your employees, your community and your customers.
Make it real
Share a story of someone you know, or someone your friends/family knows who has had the virus.
Share a story of how your or another business has been impacted or closed by the stay-home order or the new COVID-19 guidelines.
Masks can be perceived as an infringement on your personal freedom, they are uncomfortable, they are a nuisance, we can feel weird when we wear them and the guidelines for using them are sometimes vague. I confess, I hate them. But I wear them anyway as does my staff and visitors to the Bend Chamber. I do this because I care about the health of people and I can't fathom the impacts of having to go backwards and seeing our community shut down again.
---
Resources for Businesses
Face Coverings Required Statewide – Governor Kate Brown announcement that Oregonians statewide will be required to wear face coverings in indoor public spaces, beginning  Wednesday July 1.
Statewide Mask, Face Shield, Face Covering Guidance – Details on the requirements for businesses to comply with the statewide face covering mandate.
OSHA Best Practices for Enforcing Wearing of Face Coverings – Suggestions on how to address customer concerns and enforcing the wearing of face masks.