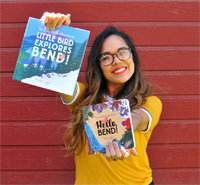 I am an artist and author and in the last 12 months have launched my second self published book, The Busy Birds Adventures: Hello, Bend! and continue to distribute my first book, The Busy Birds Adventures: Little Bird Explores Bend!
It has been a joy to share my love of exploring the beautiful outdoors of my favorite place with kids and grown-ups alike, through the art and rhyming words of my Bend-based picture books. It has also been my honor to do school readings at local kindergarten and elementary schools as well as speak about my own experience with writing and publishing a book and how they can do it too. My books are currently sold in 20+ locations in and around Bend and have participated in pop up shops like Summerfest, Craft-O fair, and Pronghorn's 1st Annual Art Show.
This has been such an amazing way to work with other local businesses to help build each other up in the process. One obstacle this year was figuring out how I would come up with enough money to print my second book (with a minimum order of one thousand books). I decided to create a Kickstarter campaign to see if I could get enough pre-orders to fund the first round of printing. After a lot of blood, sweat, tears, and so much support, I somehow made it to the other side with a fully-funded campaign and my first order of books!
2019 ended on a positive note as Little Bird Explores Bend! was included in the Top 10 Bestseller's list at Roundabout Books for the second year in a row and I was invited by the Central Oregon Writers Guild to be a judge for their annual writing competition for the Children's Literature category : ) I have made an effort to follow my heart and trust that each step of the way is necessary for my path. I am grateful for this nomination even just to reflect on this past year.
Content supplied by nominee