submitted by Kale Donnelly, Workforce Analyst, State of Oregon Employment Department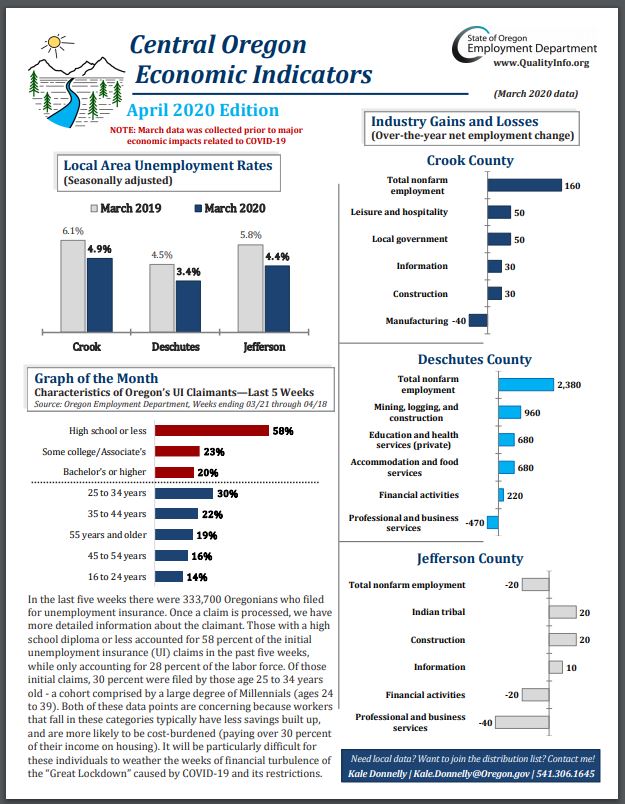 The April 2020 Edition of the Central Oregon Economic Indicators containing data for March 2020 is shown below. With the survey data collected the week before major COVID-19 impacts, March employment estimates won't signify the dramatic shifts we would expect to see until April data comes out next month. Moving forward we will begin to see the dramatic COVID-19 impacts on the employment and unemployment estimates.
In addition to the latest unemployment rates and industry changes, the Graph of the Month is a chart containing data that I think is either particularly interesting, telling, or inspired by a recent data request of mine. This edition's GOTM is:
Characteristics of Unemployment Insurance Claimants in Oregon
                Over the last five weeks (weeks ending 3/21 through 4/18) there have been 333,700 people file their initial claims for unemployment insurance (UI). This is on top of the roughly 69,000 people claiming UI before the COVID-19 impacts took place. To put that in perspective, the State of Oregon had a peak of about 239,000 unemployed workers during the Great Recession in 2009.
Once a claim is processed, we get more detailed information on the claimant. The majority of claims filed are for those individuals with a high school diploma or less. Additionally, Millennials (ages 24 to 39) have been the most impacted group since 25 to 34 years olds comprise 30 percent of all claims filed in the last five weeks. Individuals that fall in these categories typically have less savings built up, and are more likely to be cost-burdened (paying over 30 percent of their income on housing). It will be particularly difficult for these individuals to weather the weeks of financial turbulence of the "Great Lockdown" caused by COVID-19 and its restrictions.