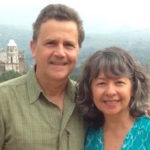 By: Jessica De la O and Lawrence Messerman, firekeepers of Sacred Fire Community

The Sacred Fire Community of Bend provides "heart medicine" in the form of monthly community fire gatherings as well as individual healing rooted in traditional wisdom. Jessica De la O and Lawrence Messerman are initiated firekeepers affiliated with the Sacred Fire Community. As a Plant Spirit Medicine practitioner, Jessica offers the deep healing wisdom of plants to her clients. Lawrence is an initiated healer and ritual leader in the Huichol tradition of Mexico.
---
Modern allopathic medicine can perform many wonders, but there is a rampant illness on which it has little effect. This is the malady known as disconnection. While our culture excels at producing all manner of physical comforts, it is poor at ministering to the inner hunger that shows up in a host of symptoms such as addiction, depression, lack of meaning and even our destructive relationship with nature. The good news is that the "cure" for these afflictions has long been known and is readily available at low cost.
At the core of most spiritual traditions is heart. While the mind gives us the ability to manipulate nature in a myriad of ways that include modern medicine, digital technology, high-speed transportation, farming, etc., the heart has a different orientation. It looks toward the timeless wisdom on how to live a good life: "How to be a real human being" as it is known in some native traditions. Whereas the currency of the mind is ideas, the heart operates on feelings. This includes feeling connection to one's dreams and visions, connections to others (community) and indeed a felt sense of connection to the natural world.
The most ancient form of "heart medicine" involved fire. In many traditions, fire is recognized as the energy of the heart. Whatever our origins, our ancestors used to spend regular time sitting around the fire. Of course they depended on fire for light, warmth and safety. But sitting around the fire was also an opportunity to share stories and teachings that affirmed bonds and helped give people a sense of their rightful place in the great, and mysterious world in which humans play but a humble part.
Even in this fast-paced time, heart can be accessed once again. Literally sitting around the fire is one obvious solution. Anything that helps calm the mind – such as meditation and other mindfulness practices like yoga – can help the heart to be heard. Being in nature is also excellent "heart medicine" and is certainly one of the big benefits to living in Bend.
We live in era of upheaval when the pace of life grows ever faster. No drug, nor any technology can provide true comfort like heart and fire. It may be the most precious medicine for our time.