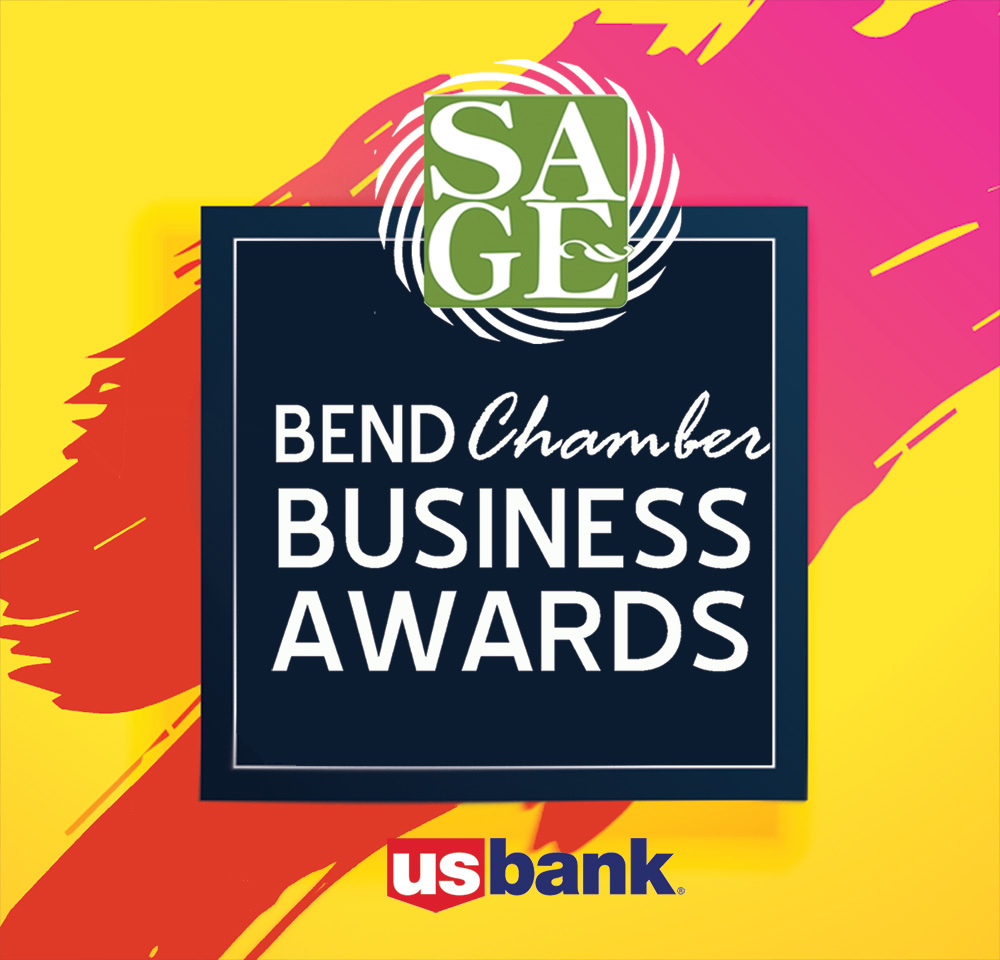 On Thursday evening, October 5, more than 250 attendees gathered at the Riverhouse Convention Center to celebrate the region's finest citizens and businesses at the Bend Chamber's 28th annual SAGE Business Awards event. Emcees for the event were none other than local celebrities Dave Clemens and Bob Shaw.
"The SAGE Business Awards are known for showcasing the achievements and entrepreneurial spirit of our region's brightest businesses and citizens," said Robin Rogers, Executive Vice President of Programs and Events for the Bend Chamber.
The awards gala returned to the Riverhouse this year with a comfy/chic look that included several lounge areas with upscale furniture provided by Ashley Homestore. Many attendees commented, "Wow! This is nice!" when they first entered the ballroom and mentioned how spacious yet intimate this year's setting was.
The Bend Chamber received more than 40 nominations this year. Nominations were open to Bend Chamber members with exception of the Citizen of the Year Award, which was open to both members and the community at large. All nominees, with the exception of the People's Choice Award, were judged by an independent panel of judges comprised of past winners, business owners and community dignitaries.
"This was a really special occasion as we salute the stand-out businesses, non-profits, and individuals that make up our truly unique business community here in Central Oregon," reiterated Rogers. The notion of Bend being a unique business community was echoed throughout the evening, starting with Katy Brooks, CEO of the Bend Chamber, and her introduction to the Equity Award. In addition to explaining the need for opportunity and diversity, she laid out a framework for what it means to do business in Bend. She termed it how to "be Bend." To shed some light on how Bend's unique business community came to be, a short video was shown showcasing Bend's past drawing positive accolades from the audience.
The announcement of the winners for each award category was the highly anticipated portion of the evening, culminating with the Citizen of the Year Award going to Dr. Rod Ray. The complete list of winners are as follows:
Citizen of the Year: Dr. Rod Ray
Large Business of the Year: G5
Small Business of the Year: Aperion Management Group
Nonprofit Organization of the Year:

Small: Latino Community Association
Large: Family Access Network

Startup of the Year: Oregrown
Young Professional of the Year: Carrie McPherson Douglass
Equity Award: Moementum Inc.
People's Choice Award: IBEX Global
Congratulations to all who were nominated and to the winners!