At the Prineville Airport last week, Samson Motors, maker of the Switchblade Flying Sports Car, did a new round of slalom testing with their Ground Test Vehicle (GTV). KTVZ-TV News Channel 21 was there to cover the action.
According to Samson CEO and Switchblade designer, Sam Bousfield, the Road & Track slalom tests were a success.
"We increased our speed through the 8 cone, 700 foot long course by 10 percent and the vehicle handled great! Testing the GTV allows us to improve the Switchblade and then incorporate changes into construction of the final flying prototype, which is well under way," Bousfield said.
http://www.ktvz.com/news/another-step-for-a-flying-car/41463832
Samson's Larry Moore got this shot of Steve Kaufmann – KTVZ-TV News 21 – filming the action.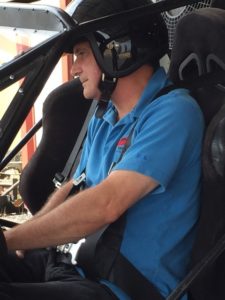 Sam Bousfield, Switchblade GTV test driver, listens to the engine before heading off for slalom testing.