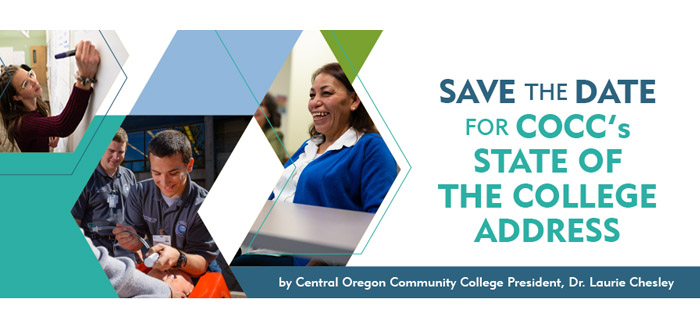 Greetings Central Oregon leaders, employers, partners, educators, students, and community members:
Please join me on Wednesday, January 24, 2024 from 9:30 – 10:30 a.m. as I share COCC's first-annual State of the College Address. This event is intended to be an opportunity for you — our constituents and stakeholders — to learn about COCC's current priorities, goals, and key initiatives. Members of the public are warmly welcome to attend, and I hope you'll please consider forwarding this email to a colleague who may be interested in learning more about their local community college.
The event will be held on COCC's Bend campus in the Coats Campus Center's Wille Hall. We will simultaneously livestream the event (link and further details to be shared in early January), and we will record it for those who cannot attend live.
Please also join us for a 9 a.m. coffee reception in the Coats Campus Center lobby prior to my remarks.
In advance of college events, persons needing accommodation or transportation because of a physical or mobility disability should contact Caitlyn Gardner in Campus Services at 541-383-7237. For accommodation because of other disability, such as hearing impairment, contact Disability Services at 541-383-7583.
I look forward to welcoming you to COCC for our first-annual State of the College Address.
Sincerely,
Laurie Chesley
President