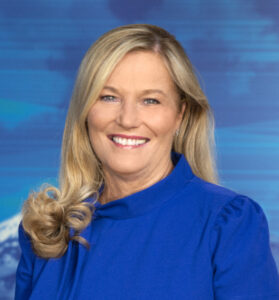 NewsChannel 21 is proud to introduce you to the newest member of the NewsChannel 21 news team: Cathy Marshall.
Cathy will be joining the NewsChannel 21 at Sunrise morning news cast as anchor, alongside anchor Rhea Panela and chief meteorologist Bob Shaw.
Cathy comes to Central Oregon with nearly 40 years of experience in broadcast news as a reporter and anchor. She has worked as an anchor for CNN and has also worked with news stations in Boston, New Haven, Seattle and Portland, Oregon, and as a sideline reporter for Beaver Sports Network. She has been working as a reporter, anchor and managing editor at NBC affiliate, KGW in Portland since 2011 and now joins the NewsChannel 21 team as Sunrise anchor.
Cathy is a long-time resident of Oregon and graduated with honors from Oregon State University with a bachelor's degree in speech communications.
As an anchor she's been part of Emmy winning breaking news coverage and also been recognized by the Associated Press for her reporting. She has covered many historical events live while anchoring for CNN, including the storming of the Branch Davidian compound in Waco TX, the day that Nelson Mandela was released from prison, the arrest of OJ Simpson and the fall of the Soviet Union.
 "Working as a journalist every day is different and you never know who you'll meet." Cathy says, "It is a privilege to share their stories and I can't wait to discover the best of Central Oregon. "
We warmly welcome Cathy to the NewsChannel 21 family and hope you will welcome her into your homes for many years to come.