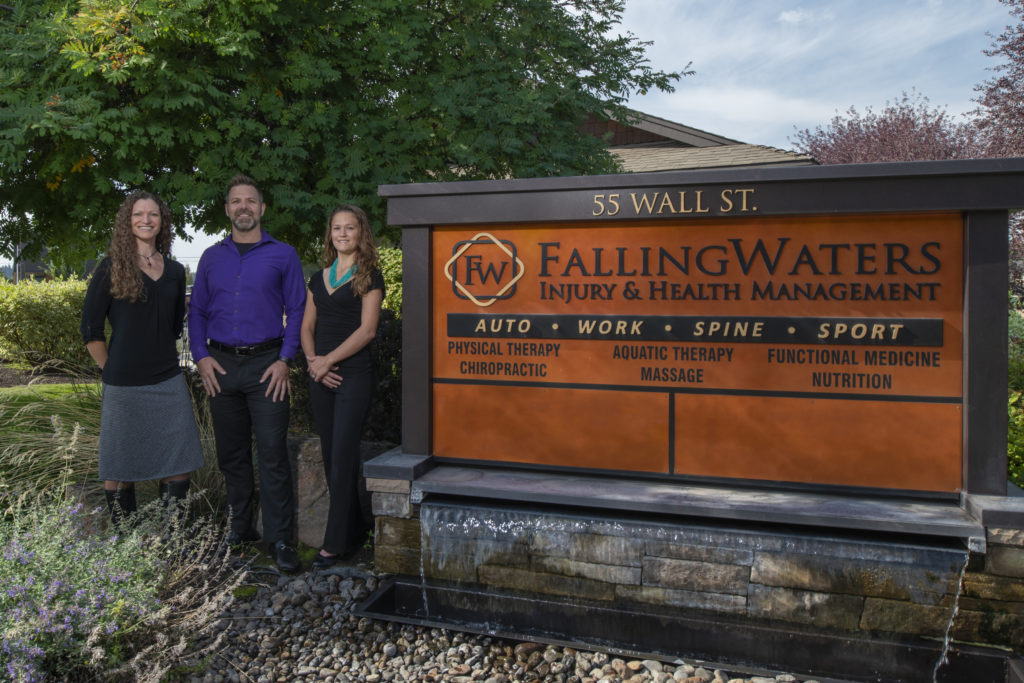 Falling Waters, a leader in injury and health management in Central Oregon, changed hands starting the first of this year.  Founded in 2007, Falling Waters quickly outgrew its original building and now resides in a 7,400 square foot private facility located between downtown and the Old Mill District.  This multidisciplinary medical clinic is unique to Central Oregon and integrates numerous specialties under one roof. Whether it be chiropractic, physical therapy, aquatic therapy, massage therapy or functional medicine, Falling Waters offers a wide array of services in a warm and inviting environment. Their experienced professional staff extends a cheerful welcome to all and is dedicated to supporting those they serve to fully succeed in achieving their health goals.
Previously under single-entity ownership, Falling Waters is now employee owned.  When the Chiropractic physician, Director of Physical Therapy, and Office Manager were presented with the opportunity to purchase the clinic from the founder, they saw it as a chance to ensure the clinic would continue with its longstanding tradition and commitment to providing excellent, team approached wellness to the amazing population they serve.  With Falling Waters being a multidisciplinary clinic it only made sense that the management and ownership team should be as well.  With nearly 20 years of combined experience in the Falling Waters tradition, this ownership team will remain dedicated to operating at a higher standard.  They share the vision that Falling Waters continue at the forefront of healthcare in Central Oregon, staying devoted to its mission of providing research based, results driven approaches to health with a commitment to red carpet service.
Falling Waters specializes in conservative approaches to optimal health, but collaborates with a myriad of providers and specialists throughout the area to support patients in obtaining the care they need and deserve.  Whether it be from auto accidents, work and sports related injuries, postoperative rehab, acute or chronic pain, or simply for those wanting to optimize their health, Falling Waters has the resources to promote optimal outcomes.  Falling Waters accepts most insurances, has reasonable time of service rates, and with its thorough multi-specialty approach can advocate for anyone seeking to optimize their health and return to the activities they love!