By: Wendy Edde, stormwater program manager for the City of Bend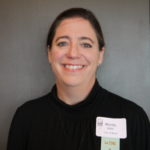 Edde has served over 10 years helping to develop the stormwater utility for the City of Bend.  Prior, she spent eight years as a consultant with EOA, Inc. focusing on providing stormwater technical guidance to several large and small countywide stormwater programs working to meet regulatory requirements.  An APWA Certified Stormwater Manager, Wendy earned a B.S. in Environmental Policy Analysis and Planning (Environmental Science focus) from the University of California, Davis.
---
During this season of giving, the City of Bend has partnered with area businesses and non-profits who are working to protect water quality, and give the public a variety of discounts on goods and services.
Participants in the innovative, incentive-based Clean Water Works Partnership Program are businesses and non-profits who meet basic criteria and commit to protecting our river and drinking water quality. They either train their staff on water quality best management practices, or support clean water through sponsorships of, or volunteering at, river clean up events.
These participants have also offered a discount to the public to enjoy in return for recognition as a Clean Water Works Partner.  The City has provided this recognition as part of its public outreach efforts.
Have a craving for a juicy steak, Thai food, spirits, cupcakes or ice cream?
Need to get your car washed or carpets cleaned before company arrives for the holidays?
Want a discount on the latest Indie film special screening?
Need to consult on that dream home improvement/development project you are planning?
Care about our river or drinking water quality?
If you said "yes!" to any of these, then this card may be a gift to you.
"We are excited about partnering with these businesses and non-profits who have pledged to help protect our water quality," said Paul Rheault, City of Bend utility department director.  "We were looking for an incentive-based approach to bring attention to not only the importance of protecting our valuable river and drinking water quality, but also to promote actual actions that can help protect it."
"This program brings a benefit to everyone participating, including those using the discount cards, those participating businesses and non-profits working to make a positive difference in our community, and everyone using or enjoying our local waters.  It's a program that is giving in so many positive ways, and really illustrates the caring and wonderful spirit of our local business and non-profit community," said Rheault.
You can download discount cards right from your computer (or pick up cards at City offices). Visit www.bendoregon.gov/cleanwaterworkspartners  to view all the partners and opportunities, and click on the round Clean Water Works Partners button to see the discounts and to download your card.   Discounts are good at least through the end of the year, with some extended into 2016.