"All For One, One For All" Tower Theatre Summer Showcase Series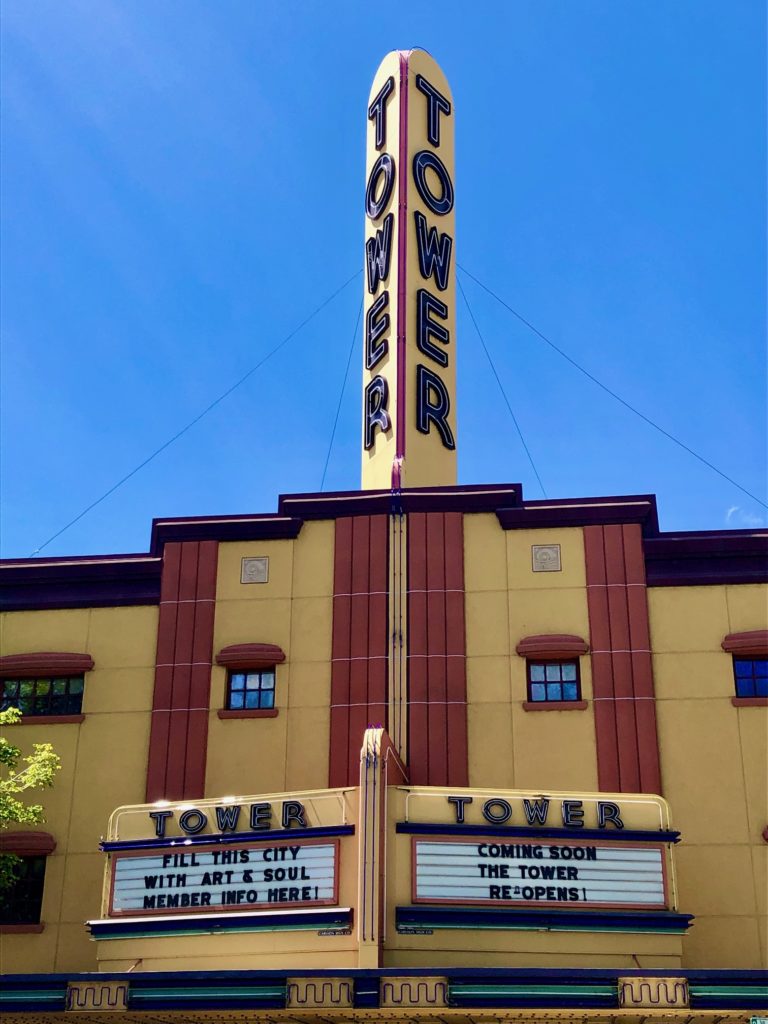 (7/13/2020 Bend, OR) For months in quarantine, we "stayed home and stayed safe." Now, with detailed and enhanced health safety measures in place, the nonprofit Tower Theatre Foundation is ready and excited to again provide experiences and performances that inspire, entertain, and (even with limited capacity) reconnect us. The Tower has teamed up with a number of Central Oregon organizations and artists to curate our summer performance series "All For One, One For All," spotlighting the incredible talent in our region.
July 17-18

Teton Gravity Research Premiere: "Accomplice"
Segments filmed in Central Oregon featuring Bend mountain bikers Carson Storch and Cam McCaul

July 24-25 Student Showcases

Mt. View High School Redmond Proficiency Academy
Terpsichorean Dance Studio mother-daughter duets

July 31 – Aug. 1

Highway 97 LIVE Hosted by Kris Arnold, 92/9 FM
With MOsley WOtta, Jeshua Marshall, The Roof Rabbits, and Cosmonautical

Aug. 7-8

Cocktail Cabaret: "The Show Must Go On"

Aug. 14-15

Thoroughly Modern Productions: "Into the Woods, Jr."

Aug. 21-22

Cascades Theatrical Company Sneak Peek

Aug. 28-29
Sept. 4-5

BEAT Student Film: "A Midsummer Night's Dream"
"As the Tower slowly and safely reopens, we stand 'all for one' behind the artists and fellow performing arts groups who continued to create and persevere through the past four months," asserted Tower Foundation Executive Director, Ray Solley. "We look forward to the community rising as 'one for all' to carefully re-connect and enjoy music, dance, drama, and film together this summer."
The Tower's relaunch plan adheres to the guidance from Governor Brown, the Oregon Health Authority, and the Deschutes County Health Services. Here are some important changes you'll notice attending a performance at the Tower Theatre:
6' physical distancing between groups at all times.
Face coverings are required and will be available to those who do not bring one.
Intermissions will be limited or, whenever possible, eliminated entirely.
Seating will be assigned by Box Office staff.
Common touchpoints will be sanitized before, during, and after performances.
Multiple hand-sanitizing stations have been installed for your convenience.
Guests will be encouraged to leave by rows to avoid crowding while exiting.
Patrons will also receive an event-specific email prior to attending events. Details on the Tower Theatre Foundation's re-opening and operating procedures are at www.towertheatre.org/tickets-and-events/reopening-plans-and-procedures/.
Tickets go on sale soon. Membership, program information and individual and group tickets are available at the box office (835 NW Wall), by phone (541-317-0700) or online (www.towertheatre.org). Details on events are also at facebook.com/TheTowerTheatre.
The nonprofit Tower Theatre Foundation owns and operates the historic stage in downtown Bend. The Foundation's mission is to be the leading performing arts organization, providing cultural and education programs that make an essential contribution to Central Oregon's lifestyle and strengthen the community.