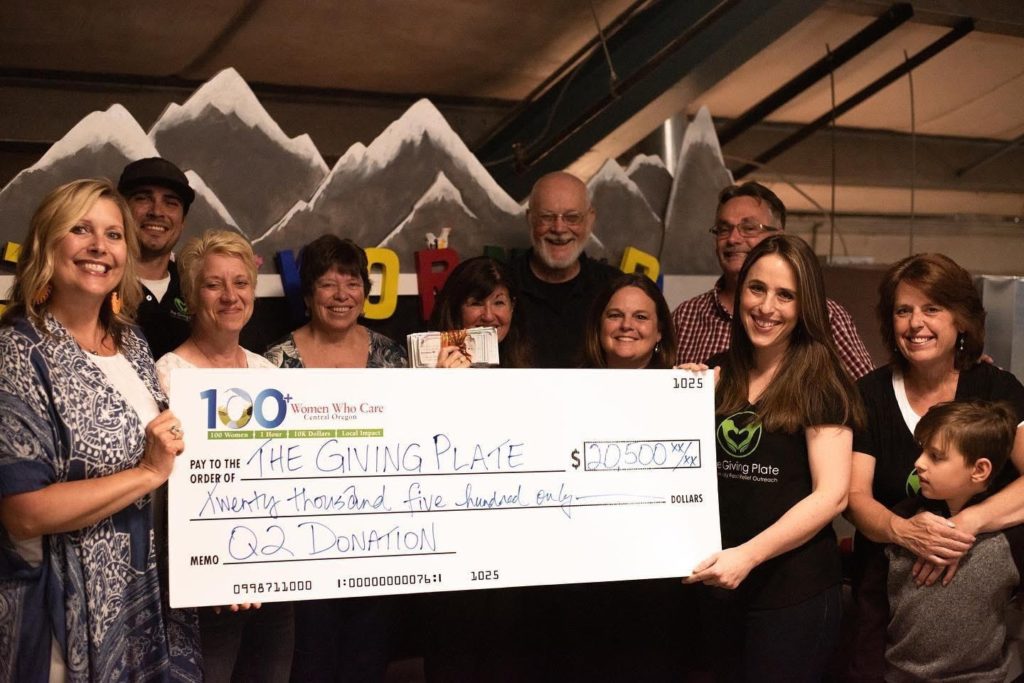 ---
100+ Women Who Care Central Oregon (100+WWCCO) is a member-based grassroots organization of women who meet quarterly to make a difference in C.O. though collective $100 donations to the voted upon nonprofit at their meetings.
Their 2019 second quarter combined donations amounted to $20,600 for the Giving Plate, a food bank that fees the hungry today with compassion and hospitality.
"It so heartwarming to see that our members have raised more than $480,000 including our donation to the Giving Plate to area nonprofits since 2014," says Lisa Connors, founder of 100+WWCCO. "The power of smaller donations combined into one large gift makes a huge impact in our community."
"We are incredibly grateful to have been chosen by the 100+ Women Who Care," says Ranae Staley, executive director for The Giving Plate. "The funding we received will allow us to add a new key employee to our team, which will position us to continue to grow to meet the needs of food-insecurity in Central Oregon."
---
About the Giving Plate:  The Giving Plate provides food relief to nearly 4,000 people every month in C.O. Many guests served are one paycheck away from having their world crumble. provides a welcoming environment so that each guest that visits feels valued, and doesn't encounter the clinical stigma that is connected to many food bank experiences.
About 100+Women Who Care of Central Oregon:  Now celebrating its fifth year, the humble, yet powerful group has grown to be one of the largest chapters in the world. Collectively the group has raised more than $480,200 for local non-profits since 2014. Past recipients of donations include Assistance League of Bend, Treehouse Therapies, Community Shower Truck, Family Access Network, Abilitree, Oregon Adaptive Sports, and more. Our next meeting is Monday, September 23 at the Bend Boys & Girls Club.
To become a member, or learn how your nonprofit can benefit from 100+WWCCO, please visit www.100wwcco.com.