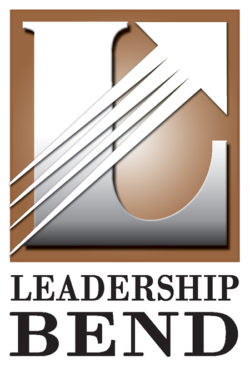 Greetings Leadership Bend Alumni,
The Leadership Bend Class of 2017 cordially invites you to attend this year's Leadership Bend IMPACT SUMMIT on Thursday, May 11 at the Hampton Inn & Suites.   All Leadership Bend (LB) alumni are invited to a special "LB VIP – Happy Hour" prior to doors opening and are eligible for a special registration price. Get registered today and be sure to tell your fellow classmates!
What is the Leadership Bend IMPACT SUMMIT? Starting as the "class project" for LB Class of 2015, this will be the third Leadership Bend IMPACT SUMMIT (previously called C.O. Impact Summit) of providing 10 Central Oregon non-profits a series of skills -based workshops led by local experts culminating in a "Pitch for a Purpose" event.  The best pitch will be awarded a $10,000 prize while the audience choice winner will receive $1,500.  Cast your vote for the best pitch by coming out for this fun event!  See the list of finalists below.
"LB VIP Happy Hour" and special registration price: Complete with appetizers, drinks, and a great program, alumni tickets for the event are only $15!!  Additionally, because this year's class has heard so many wonderful things about all of you, we would like to invite you to attend a LB alumni only happy hour from 5:00-5:30pm.   (Doors open to the general public at 5:30pm.)  Meet the Impact Summit Finalists, the judges and network with fellow alumni.   Don't delay…get your ticket now by registering HERE. Be sure to enter this promotion code: LBALUM to get your specially priced ticket and advance registration to the "LB VIP Happy Hour".
The five finalists to present on May 11th "Pitch for a Purpose" event are:
Deschutes Children's Foundation
We look forward to seeing you there!
Warm regards,
LB Class of 2017
P.S. We are gladly accepting donations for the event.  To donate, click here.
***
Dear LB Alumni,
My utmost thanks for your support and engagement of Leadership Bend fellow alumni.
Excited to see you there!
Jamie Christman
Executive Vice President, Community Affairs
Bend Chamber | Leadership Bend
777 NW Wall St Ste 200, Bend, OR 97703
Phone: (541)-382-3221 web: www.bendchamber.org