The Bend Chamber is fostering the development of future business and civic leaders through its Leadership Bend program. Leadership Bend is designed to identify, educate, train, and connect willing and committed citizens to leadership roles in our community. Now in its 25th year, Leadership Bend boasts over 400 alumni who have gone on to serve as our "community trustees."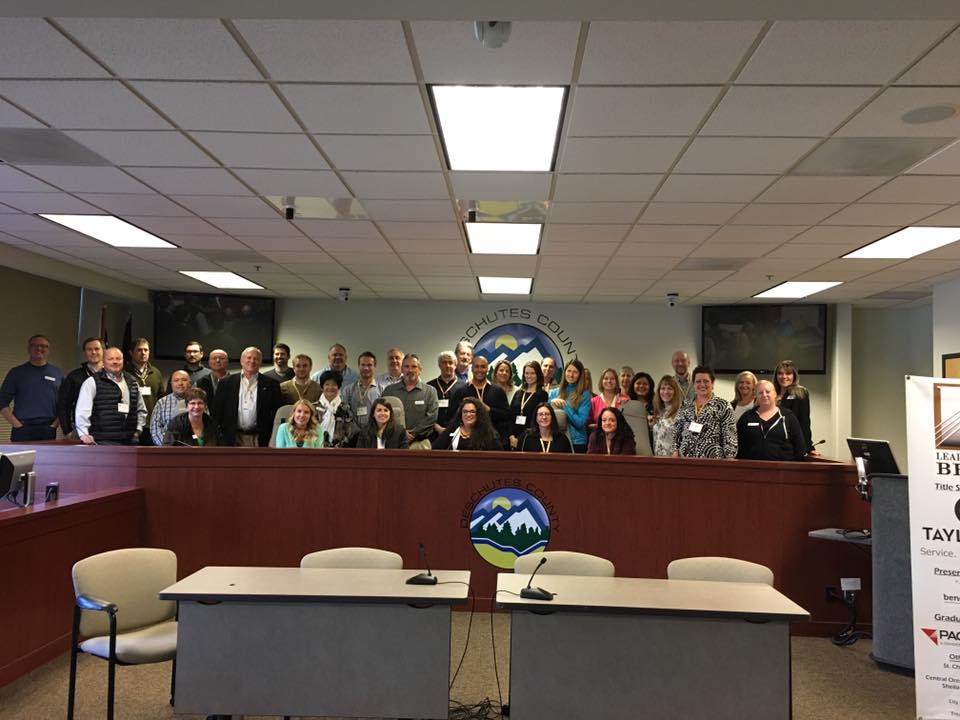 WHAT is Leadership Bend?
Leadership Bend is an annual nine-month program investing in leadership and community awareness and is a program of the Bend Chamber. During nine full-day sessions, scheduled once a month, participants work together with local leaders to expand awareness and understanding of unique issues and opportunities facing the Bend community as well as the Central Oregon region. Participants are challenged to explore current issues first-hand, will benefit from a series of leadership topics designed to enhance individual leadership skills and be expected to make an impact through the highly identified class project.
WHO participates in Leadership Bend?
The program brings together community minded individuals ready to assume leadership roles and businesses who believe a healthy community comes from an investment in leadership. Participants are identified from a broad cross section of the community, drawing from acknowledged and aspiring leaders who represent diversity and share a common commitment to action and a bright future.  Leadership Bend alumni include a variety of prominent business owners, CEOs, city managers, superintendents, executive directors, elected officials, industry leaders and professionals.
WHY Invest in Leadership Bend?
No matter how much technology you have, people are your company's greatest asset. Leadership Bend keeps leaders plugged in to become part of the solution to issues and needs. When you invest in leadership development, you build your major resource, your people. It is our belief that everything begins with leadership. As a growing and very special region in Oregon, the issues become increasingly more complex and the need for leadership is greater than ever. After all, who will "pass the torch" and continue to build upon what was already created by our pillars before us? Leadership Bend educates committed leaders on the issues and resources in the community, allowing one to become part of solutions as a more informed and engaged citizen. When you invest in Leadership Bend, you invest in the community and our future. After the nine-month program is complete, Leadership Bend alumni become community trustees. With over 400 alumni, they know change and opportunity happens through action and the list of accomplishments of Leadership Bend alumni is long. Why not make a difference in your community today and invest in yourself through Leadership Bend?
Contact Jamie Christman, Executive Director of Leadership Bend, at 541-382-3221 or jamie@bendchamber.org for more information about the Class of 2019 session starting in September 2018.