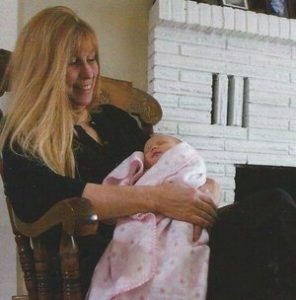 My life in the world of pregnant and parenting young mothers began in 1989 when my 16-year-old daughter broke down in tears and told me, "mommy, I'm pregnant." Those words started me on my path to the most important and meaningful role I would play in life (outside of family).
As I looked for resources and support, I found very few, however, in my search, I discovered that there were other pregnant teens who were homeless, in need of so much more than just shelter. They needed love and support. In 1989 we took a 7-month pregnant 14-year-old into our home and later an 18-year-old making an adoption choice for her baby; they are still like family to this day.
My grandson was born in October of 1990 – he is now a teacher at Marshal High School and one of our Grandma's House moms is currently in his class! Aaron, born in February of 1991, on Valentine's Day, our baby born of our 14-year-old mom, is climbing the ladder of success at Amazon. My husband and I were overjoyed to attend his wedding this summer and were proudly seated in the grandparent section!
In 1990 I started a group called Parents of Teen Parents to give an avenue of support to other parents. In early 1992 I started volunteering with Grandma's House. The residents referred to me as Wednesday Woody, because I committed to volunteering every Wednesday for the rest of my natural life. I didn't realize then how close to the truth that would be! I loved being there for the moms and babies – it was quite eye opening on things that were going on in their lives.
In 1993 Grandma's House case manager left and I was asked if I would consider the position. I did and loved it. I learned so much in that year about the needs of this fragile population and about homeless youth in our community. In 1992 I attended childbirth classes with a couple of moms and what we found was that they were set up primarily for an adult couple. The girls were uncomfortable. I researched where I could take classes for childbirth educating and found that the Red Cross was just setting one up. I signed up and in a matter of weeks I had my certificate and started doing classes at Grandma's House. I taught a weekly 'Teen Childbirth 101' class for 13 years. Participants included: Grandma's House residents, Bend High Teen Parent Program students and any pregnant teen in need in the tri-county area that wanted to come, at no cost. Their support person(s) were always welcome. I also would go to participants homes if they were on bedrest, choosing adoption or were uncomfortable in a group setting. I was also asked many times to be their birth coach – to this date I have coached 50 births and attended many more as a support.
In 1995/96 our Executive Director retired. The board asked me if I would take that position. I was apprehensive and absolutely terrified because I was not a public speaker. I couldn't imagine getting up in front of people and talking. As afraid as I was, I was excited too. I had a vision of what Grandma's House could be, so I accepted the position. I immediately went to Toast Masters. I wasn't sure how long it would take to learn this new skill. My mentor, and a Grandma's House founder, gave me some sage advice. Stay until your speech makes them cry – when you see tears you know you are an effective speaker. It took 3 weeks.
I knew that we could do so much more than we were doing. I researched other homes in the Northwest but did not find another model to go by. We were going to have to blaze this trail on our own. The first thing we did was develop the Angels Wing Aftercare program. This is something all of our graduates belong to as long as they wish. They are always welcome back to visit, receive resources, talk about life, good and bad and do problem solving. This has been very successful – we have maintained relationships with both moms and babies for many years. For some kids, this is the only Grandma they have ever known. I have attended graduations, weddings and special occasions for both the moms and the kids of Grandma's House.
Another program of Grandma's House is Grandma's Closet. This is a room where we have donations from the community – we share with other programs and the Home Health Nurses for their clients. It is the heartbeat of Grandma's House. In the last 27 years Grandma's House has become a comprehensive program. We accept young mothers where they are and build on their strengths. Offering life-skills, childbirth education, parenting and support Grandma's House has grown into the model that many other homes look to for support. We are currently mentoring a program in Norwich NY. They went online to research program and chose Grandma's House as a model.
In 2005 we paid off the house. Soon after, with the help of Kirby Nagelhout, his construction company and many of his friends, we built an addition of 7 bedrooms, and a beautiful remodel of the resident's area. When the dust settled, we still had no mortgage. 7 years ago, with the help of Wayne Purcell and the Gala at the Riverhouse, Nagelhout Construction and again many friends we built a state-of-the-art duel kitchen, dining room, computer room, deck and outdoor area. Again, when all was said and done, we still did not carry a mortgage. I think in this we find my greatest strength; I make friends easily and openly give folks an opportunity to support a very special organization, Grandma's House – and I never forget to say thank you in meaningful ways.
In 2016, after 25 years, I was searching for the right person to take over leadership of Grandma's House when I retired. Because we were a small non-profit and I wore many hats I couldn't find anyone that would want to do what I do. Stephanie Alvstad, Executive Director for J Bar J invited me out for coffee. She asked if I ever thought of coming under the umbrella of J Bar J Youth Services. It had never crossed my mind but was the most logical and responsible match we could have made. Bringing Grandma's House under the umbrella of J Bar J not only secures her future for when I retire in 2021, but it completes the circle of services we offer our homeless and at-risk youth in our community. There is just no downside!
Although I am not a founder, that is reserved for 7 amazing people, I am part of the foundation of Grandma's House. I have supported every young mother and rocked every baby that have come through our doors. This is something that I feel I was chosen to do. I will be retiring September 15, 2021 on my 70th birthday. It will be my 30th year at Grandma's House. True, it will be bittersweet, however, there is a very bright spot. I have found the perfect woman to take my place. Eliza Wilson was a resident at Grandma's House 13 years ago. When she and her daughter transitioned into independent living she was drawn to the plight of homeless youth. Eliza worked at the LOFT Program for a number of years and is now our case manager here at Grandma's House. Over this next year Eliza will be part of my succession plan, taking my position when I retire. It will be a completion for me and coming full circle for her. My last act at Grandma's House will be as an example of how a successful succession plan can keep a program healthy and thriving with minimal impact on precious residents.
In closing, I am honored and humbled by this nomination by Peggy Carey, Bend Chamber's 2019 Lifetime Achievement Award winner; the amazing woman who submitted my name for this award. I know it takes a lot of heroes to make a Community Hero. It has been my greatest joy to dedicate my life working for the many heroes that made this opportunity possible.
Content supplied by nominee