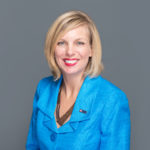 Wendy McGrane is a local Commercial Banker, currently managing a team of 5 Commercial Banking Relationship Managers at U.S. Bank. Wendy and her team of bankers support businesses with financing solutions to help them manage cashflow, acquire assets, and grow their operations. She has been described by her clients and colleagues as "inspirational, dedicated, and a true connector." At U.S. Bank, Wendy serves as the Diversity and Inclusion Ambassador for the Pacific West Division, and is on the Community Banking Employer of Choice Agile Team.
Wendy's support of businesses goes beyond serving their banking needs, as she also sits on the board of the Oregon Business Development Corporation and serves on the Bend Economic Development Advisory Board.
Wendy is a graduate of the Pacific Coast Banking School, and earned her bachelor's degree from The Colorado College. Before Wendy found her calling as a banker, she worked in municipal finance and accounting both domestically and internationally.
Outside of her professional endeavors, Wendy enjoys searching for great travel deals, experimenting with essential oils, and volunteering for the Bend Swim Club. She is also a passionate lover of hot sauce and all things spicy, a self-admitted awkward but extremely fun golfer, and has an uncanny ability to misplace things and find them again.
Wendy is the proud mother of 2 boys (Hunter and Henry) with her husband Ben.