submitted content


Since 2010, The Giving Plate (TGP) has committed to a mission of "feeding the hungry today with compassion and hospitality." We envision a community where we take care of each other, especially in times of need – a community where we stand side-by-side in the fight against poverty. At TGP, we strive to be more than just another food bank, and we are intentional in our effort to remove the clinical stigma commonly associated with food banks and replace it with an environment that is warm, welcoming, and rich with hope.
To watch a short information video on our Food Box program go to: https://www.youtube.com/watch?v=VCFzsiItIE0&t=24s, and to watch one for B4B go to: https://www.youtube.com/watch?v=D_zLZcBDMdI. Our Kid's Korner informational video is in the process of being completed.
TGP was founded in 2010 in the aftermath of the 2008 Great Recession. TGP founders, Gary and Debi Kelso, felt the full effect of this economic crisis when they lost their home. Their daughter and current TGP executive director, Ranae Staley, and her family also lost their home and were struggling to make ends meet. In order to survive these trying times, the Kelsos and the Staleys moved into a modest rental where they shared expenses. It was during this time that Debi received a small settlement from an accident. Instead of using this money for her own family, her idea was that maybe this money could impact the local community. She decided she would invest it into starting a small mom & pop food pantry. The big dream they started with was that maybe in a few years they could feed 500 families who were also feeling the effects of the recession. This felt like a huge feat to the family since they didn't have a lot to give financially, nor did they have experience starting or running a non-profit. What they did have was a heart to help and the faith to step out to see what could be accomplished.
The need for food relief, as it turned out, was far greater than anticipated. Over the next nine years, TGP grew into the largest food pantry in the tri-counties of Deschutes, Jefferson, and Crook.
In April 2010, TGP opened its doors to the community. The need for food relief, as it turned out, was far greater than anticipated. Over the next nine years, TGP grew into the largest food pantry in the tri-counties of Deschutes, Jefferson, and Crook. In 2018, TGP provided monthly food boxes to 6,354 families, equating to 20,900 individuals – one-third of whom are children under the age of 18. This was quite a leap from that modest dream so many years ago. Since 2010, TGP has served the food-insecure populations of Bend, La Pine, and Sunriver. In 2018, TGP expanded its boundaries to also include the rural communities of Prineville, Sisters, and Tumalo.
In addition to monthly food boxes, TGP has two new initiatives that specifically target childhood hunger. In October 2017, TGP opened Oregon's first youth-specific food bank called Kid's Korner, a shopping-style pantry where children 18 and under are encouraged to select their own snacks from 16 different bins. TGP went from serving 3,188 children with "brown bag" lunches in 2016 to nearly 7,500 in 2018 – a 235% increase. In September 2018, TGP unveiled its new 600 square foot Kid's Korner expansion, constructed as a result of the increased traffic of children visiting for food relief. This new space has been designed with kids in mind. It is a bright, welcoming, and fun place for our youngest guests to visit. One little girl came into Kid's Korner one day and after finishing her "shopping" she exclaimed, "This is my favorite place in the WHOLE world!" When asked "why", she replied, "Because you give us food." The majority of us know what it feels like to be hungry, but hunger has an end in sight. If you are hungry, generally you know when you will eat again. But food insecurity is scary because there is uncertainty surrounding when you will have access to the food you need to fuel your body. For adults this is a hard place to be, but for a child it is frightening because they are vulnerable to their environment. They can't go get a job to change their situation. For children like our little friend mentioned earlier, TGP doesn't just provide food relief – TGP provides security, peace of mind, and hope. We are so passionate that no child in our community should ever feel insecure about their next meal that we make Kid's Korner available to children every day we are open. Each child leaves with 8-10 pounds of food per visit, which is all supplemental to their family's monthly food box.
Our newest program focused on childhood food insecurity is Backpacks for Bend (B4B). Though the program is new to TGP, it has been supporting poverty-stricken Bend/La Pine students since 2009. In April 2018, TGP learned that this well-known and respected program was slotted to close due to lack of staffing and resources. In June 2018, TGP adopted the program as its own. In our first year offering the program we grew it by over 40% – from serving 321 children to ending the school year helping 470 children every week. That is a total of 14,630 bags of food provided in the 2018/2019 school year.
Not only did we increase the number of children served each week, we also increased the amount and variety of food children received and implemented a new incentive called "Golden Tickets." Each week four students throughout 28 Bend/La Pine schools receive a Golden Ticket in their food sack. These tickets can be redeemed at TGP for prizes valued at over $30. The purpose of this incentive is two-fold. First of all, it exposes new families to a wider set of food-relief services. A family might visit to simply pick up their child's Golden Ticket prize, but they might leave with the prize, a monthly food box, a Kid's Korner bag full of snacks, and information about accessing TGP services in the future. Secondly, this incentive allows us to live our mission from a distance. Because we work in partnership with the schools and FAN advocates to distribute food bags outside of our facility, we don't get to be face-to-face with our B4B guests. The Golden Ticket incentive allows us to send our heart for compassion and hospitality with these bags of food and to give underprivileged children a reason to celebrate.
With the addition of Kid's Korner and B4B in the last two years, we have made a dramatic swing in the focus of who we serve. Previously, our total guest population was made up of 63% adults and 36% children. After the expansion and addition to our childhood hunger fighting focus, we are proud to say that over 60% of our total guest population are now children under the age of 18. We have found our niche and we are excited to continue to improve in the ways that we meet the needs of food insecurity, especially with the youth in our community.
As a family, the mission of TGP has become our passion, and we are committed to leading the way in Central Oregon when it comes to reducing food insecurity – especially among children.
As a family, the mission of TGP has become our passion, and we are committed to leading the way in Central Oregon when it comes to reducing food insecurity – especially among children. Starting a non-profit is hard work. You have to be committed and incredibly passionate about the work you are doing to see it through the bumps that are inevitable. We had a lot of bumps along the way as we worked to build funding and community awareness. It wasn't until the end of 2016 that the tides finally started changing and the community began to rally to help us keep up with the growing need of food. At the end of 2016, we ended the year in the best place we had ever ended a year, and from that point on we have had an increasing amount of support and recognition within the community. We went from having the majority of our funding coming from grants, to now having over 60% of our funding come from the community. As mentioned earlier, the community fully funded the Kid's Korner addition that we completed in 2018. Also, in 2018, we were one of ten non-profits that were selected to participate in the Leadership Bend Impact Summit. This program offered a series of workshops on topics such as: strategic and business planning, finance, governance, marketing, and pitching your organization. Each non-profit had to prepare a strategic plan and based on the review of the strategic plans four non-profits were selected to move forward to the Pitch for a Purpose event where they would have the opportunity to present to a panel of judges and an audience full of community members. TGP was blessed to be the grand prize winner of $12,000 that night. This not only helped us purchase a much needed new commercial freezer and fund the start of our new B4B program but also gave us valuable community awareness surrounding the work we are doing in Central Oregon to fight hunger.
Just this month, June 2019, we had another big win when after four years of participating in 100+ Women Who Care, TGP's name was drawn to present. On the evening of June 3, TGP was chosen by the audience and received $20,500 to help fund a new key position for the organization.
At TGP, we believe that what sets us apart is the heart behind what we do. Nearly every week, we hear from our guests that TGP "just feels different" than other food banks. One of the documents we are sharing with this package has an image of our logo with words in the center and "GIVE" across the front. Last year, we were asked what one word would define us as an organization. We decided our guests were the right people to answer that, so we polled them on social media. To our delight, not one person used the word "food." They said things like: compassion, love, dignity, and respect. For us this was huge, because we strive to give more than food. We work hard to create a place for them that is safe and full of hope, and to hear from them that this is what they are experiencing means so much. This is how we define success – not only are we successfully meeting the emergency food-relief needs that we encounter, but we are also successfully meeting the hearts of each guest that walks through our door – empowering and encouraging them when they need it most. At TGP, we are truly offering more than food to our community – we are offering hope and security.
---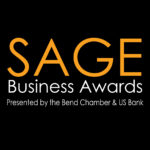 2019 Bend Chamber SAGE Business Awards //  Nonprofit of the Year Nominee