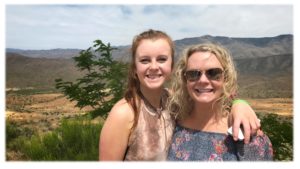 "I just want you to know you made a huge difference in my life." "As a struggling teen, you became my role-model." "She's not in this for herself. She is truly focused on the good of us all." – these are all things spoken to me or to this nominee. I've never meet anyone like her and I've never seen so many people approach a stranger (they feel they know) and thank her for making a difference in their life. I've seen this happen all over Deschutes County – from community leaders to people working the drive-thru. I've seen this happen all over the state and I've even seen this happen in Washington D.C. People love Tammy Baney.
Tammy has been a Commissioner for our county since 2007 and she hasn't slowed down since then either. At least once a week she will get up very early and drive to Salem or Portland and back. (yes, even in snow storms) She does this to represent Deschutes County but she also does this for all of Oregon. Tammy is also the chair of the Oregon Transportation Commission and chair of the Oregon Housing Stability Council. She received these appointments from Oregon governors on both sides of the isle because they know she is thoughtful, considerate, kind, smart, fair, and one of the top leaders in the state of Oregon.
Tammy also has a big family. She has her daughter, Addy, and three grown foster daughters – two of those daughters have kids as well so Tammy is a grandmother! (Shhhhh) Soon she will be loading up Easter baskets and making the rounds. (a routine that happens for holidays and birthdays) The tables are stacked end-to-end for those special occasions and Tammy is at the heart of everything and trying to make sure everyone (everyone!) feels welcome and loved.
Tammy has also done a few other things: Central Oregon Health Council (Modernizing Oregon's public health system as well as a state wide task-force for Oregon's behavioral health system for youth and children. Chair of Deschutes County Local Public Safety Coordination Council. KIDS Center Advisory Board. Family Access Network Foundation and a board member for Central Oregon Visitors Association and Central Oregon Film Office. She has served as a Court Appointed Special Advocate (CASA); Foster Parent; Habitat for Humanity and Deschutes County Meth Action Coalition.
If I consider all that Tammy has done for our community, I know I will get it wrong. I know I have left out more than has been included here. Most days I learn something new about her and something more she does or has done for Bend, for Deschutes, for Oregon and today she is heading back from a national meeting in Washington D.C.. What was the meeting for? Why was she here? Answer: So she can learn how to better serve our county. Tomorrow morning she will be up early and eager to serve at the county building, second floor. (Friday she drives to Salem and back for meetings)