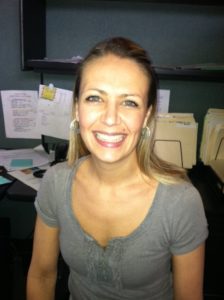 Why did you decide to become a judge for the Women of the Year Awards?
Being a judge in the inaugural year of this event (2015) cemented my passion for business, leadership and women in both! I have always known that women could change the world, banded together or even one alone. After meeting these nominees and hearing their life stories, I know for sure that we are on the right track here locally. It's empowering and enlightening and makes you want to stand up and cheer! I wouldn't miss this opportunity for the world.
What does the Woman of the Year Awards mean to you?
It means we are honoring and celebrating women in our community that are doing unbelievable and amazing things to help change the world! It means that when my daughters see and hear what women around them are doing, they then KNOW that they can too.
Bio:
Sarah was born and raised in Juneau, Alaska, but moved a few times back and forth between there and Virginia in her younger years. She was lucky enough to visit every state in the U.S., with the exception of Hawaii, before the age of 13, mainly by car.
During most of Sarah's childhood, her mother owned her own businesses. Stemming from her mother's influences, Sarah has always had a very entrepreneurial and inventive mind set.
By the time Sarah was 19, she had a dream of working for a large advertising agency and producing Super Bowl commercials. Although that dream never became a reality, Sarah utilized her skills in other ways; becoming a photographer for her college newspaper and working in several busy studios in Southern California. After college Sarah was chosen to be a contestant on the hit CBS show "Survivor", in only its 4th season, and headed off on this more than wild adventure at the end of 2001.
Her love for continuing education then found her accomplishing her Masters Degree in Cross-Cultural Education along with her Teaching Credential. After five years of working in Special Education she transitioned into the non-profit field, helping children and people with addictions.
After moving to Bend for the lifestyle and change of pace, Sarah found herself applying for a marketing consultant position with the Bend Radio Group where she has been for five years now. This career allows her to help business owners achieve the success they are looking for through creative advertising!
Sarah lives here in Bend with her husband, Brian, and three children ages 11, 8, and 5. They enjoy camping, skiing, water sports of all types and adventuring this great state of Oregon! They love Bend so much they consider themselves "lifers."