Open House for Newport Corridor Improvements Project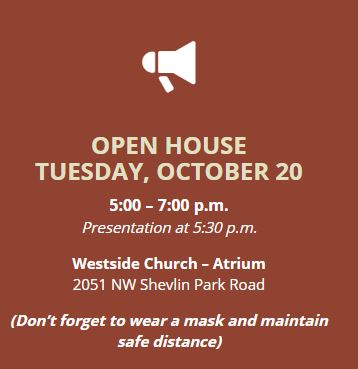 The Newport Corridor Improvements Project will replace aging and failing stormwater drainage system along Newport Avenue and in the South Awbrey Butte area. The City will replace other aging water and sewer lines and improve the roadway to contemporary standards at the same time.
In addition to the drainage system improvements, Newport Corridor upgrades will also:
Reconstruct the roadway from College Way to 9th Street.
Replace the existing sewer trunk line.
Replace water distribution pipes in the rebuilt roadway.
Install new sidewalks, curb ramps, lighting, landscape irrigation, and signage.
The City is working to find the best and safest option for improvements at the intersections of NW Newport Avenue with 11th Street and 12th Street. The proposed improvements will be shown at an upcoming open house for the public. Project neighbors are invited to attend the open house to ask questions and share feedback:
Tuesday, October 20, 5 p.m. – 7 p.m. (Presentation at 5:30 p.m.) at Westside Church, Atrium, 2051 NW Shevlin Park Road
Project information: www.bendoregon.gov/newportimprovements. Between October 20 and October 23 there will be a survey available on that webpage where neighbors can submit questions and suggestions.
This meeting is accessible. Sign language interpretation service, assistive listening devices, materials in alternate format such as Braille, large print, electronic formats or any other accommodations are available upon advance request. Translated materials and live interpretation in Spanish are also available upon request. Please contact us at awells@bendoregon.gov  or 541-588-0581. Providing at least three days' notice prior to the event will help ensure availability.