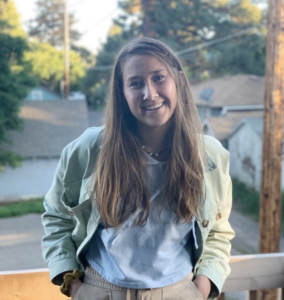 I have always and am always looking for ways to get involved in my community and in a variety of different enriching experiences! I've been volunteering my entire life- when I was younger, with Girl Scouts and with my mom (who always fostered a volunteering/giving back mentality in me).
I'm not sure how far back I should detail here so I will start in high school! – In high school (2014/2015) I was the Vice President of the South Suburban Recreation District Youth Commission for 1 year. This was a commission comprised of students who helped to create programs for youth in the district and get youth more involved. We created a photo contest for youth among giving input into multiple programs.
In high school (2015) I was a camp counselor for the 6th-grade outdoor week-long camp where I was in charge of a cabin of girls and teaching a course on water conservation.
In high school (2011-2015) I went on a mission trip to Mexico with my youth group to build a house for a family over the course of a week. We also went on two youth gatherings in New Orleans & Detroit where we participated in service projects around the city for one day which included: restoring paths destroyed by Hurricane Katrina & repairing an old building. I also volunteered frequently with the youth group at organizations such as Rocky Mountain Food Bank, & a local nursing home.
I volunteered in high school with various organizations such as: Metro Food Bank, Iron Man Boulder, Eagle Scouts, and Littleton Rehabilitation Center. -I also lettered in Key Club 2014- for having over 100 hours of community service for the year. (got many of these hours for being a camp counselor among various other volunteering experiences)
In the Summer of 2016, I was an Americorps Vista for Camp Fire of Central Oregon. I was not technically "paid" a salary but I did receive a small government stipend. I worked with the program director, Mary Bowker, to create and implement a summer program for teenagers and to work to get teens in the area more involved with Camp Fire and in the community. That summer we hosted several events for teens to get together including a "float the river" and camping trip. We also planned and executed a three-day "bike camp" with 5-6 kids where we worked with a local non-profit that fixed up bikes that were donated to give to kids in need. At this camp, the kids created crafts with old bike parts, learned to fix up a bike with the non-profit and spent a day learning how to ride a bike safely with Commute Options. This camp is still held today. I also was a camp counselor at Camp Fire's week-long Tumalo Day Camp and a volunteer for their Summer Kids Summer Day camp for a couple of days.
In August of 2017, I became a Community Assistant at the Central Oregon Community College Residence Hall. This position is better known as a Resident Advisor. In this position, I lived in the Residence Hall and was the Community Assistant for the hallway that I lived in. This means that I served as a resource, upholder of community standards, and a friendly face for the 30 students in my hallway. I conducted health and safety checks, planned fun programs for students to become involved in, helped connect students to resources that the school had to offer (personal counseling, tutoring, intramural sports programs), enforced housing policy and was a liaison between students and professional staff. It was always my goal to create a respectful community and a hallway that was a safe space and to be a genuine leader that students felt that they could safely come to with any issues, concerns, or questions about school, and most importantly, mental health. In this position, I got to know the students on a very personal level, as I lived with and around them 24/7. There were times when I was woken up at 4 am to a student with anxiety needing to talk (and was happy to do so), other times I was simply needed to simply be present to mediate a roommate conflict. While I held programs for students including programs such as: rock climbing, a tea tasting with Townshend's Teahouse, DIY day, hiking, and more. I was in this position for two school years (until June 2019) and found it to be both challenging and deeply rewarding. I was challenged to make connections while also always remaining professional, to be a continual leader, and to always have empathy. My supervisor nominated me for the Distinguished Student Award at COCC in May of 2019.
In February of 2019 I joined the Sustainability Club and was elected president in March of 2019 (although I'm president- the other officers and I facilitate many of the same functions & work mostly as a team). This is a fairly new club, so many of our efforts were to recruit new students and to hold events that both students and the community can attend. As a club the last months of last school year, we volunteered at the Environmental Center of Bend, held a movie night for students and the community partnering with Deschutes 350, held a booth in the dining hall promoting plant-based eating, and partnered with OurClimate (an organization that "mobilizes" youth to work to create change in climate policy) to get students signed up to petition for HB2020 (Oregon Cap on Carbon Emissions). We also held weekly meetings with donuts & coffee where we discuss issues we may want to tackle and events we want to host. This year, I coordinated with Megan French from Boundless Farmstead, to have the Sustainability Club sponsor Central Oregon Fill Your Pantry event to be held at OSU Cascades. The event was successfully held at OSU Cascades, in Tykeson, November 10th and held about 17 local vendors (farmers & artisans) who sold their products and produce and the last of their harvests in bulk. 500+ people were in attendance from the community and we hope to host this event every year!
As a busy student it can be difficult to commit to too many ongoing volunteer opportunities so I try & volunteer where I can for different organizations & events- these are some of the organizations I have volunteered in the past couple of years: Camp Fire Central Oregon Ronald Mcdonald House Salvation Army Pie Run Environmental Center of Bend Bend Venture Conference
Lastly, during the summer I am a dock supervisor and fish cutter at a fishing lodge in Alaska and am working on becoming a fishing guide, I will be one of only a couple of women guides in the region out of hundreds of guides. In addition, I also saw a need for a better quality fishing gear & wear for women in the industry and in commercial fishing so I've set out to start my own business, Radder Gear. Radder Gear's mission is to create quality fishing gear for women while simultaneously empowering them by recognizing them as a vital part of the maritime industry. I hope to not only create gear for women but space and a community that recognizes and empowers them as well. I'm currently working on design & prototype, have won some money in pitch competitions (OSU Pitch Fest & Unconference BendTECH) to start my company and am currently working on paperwork to start an LLC.
Content submitted by nominee