Community Hero of the Year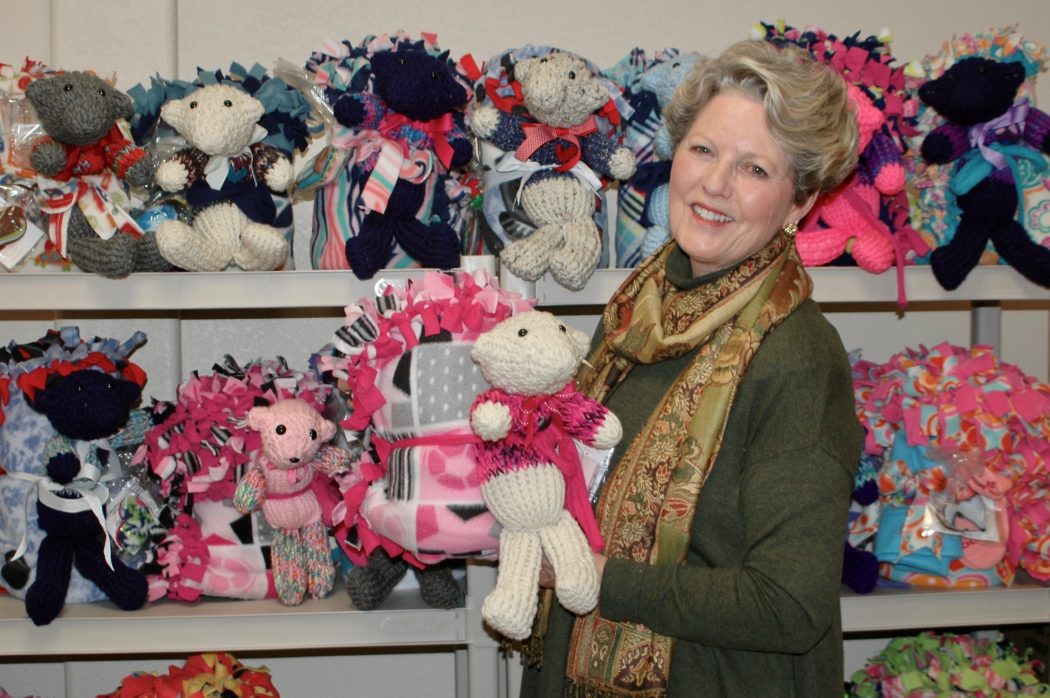 A warm heart for people in need! How do you help the thousands in Central Oregon who are having a tough time in life, whether it be homelessness, abandonment, abuse, drugs, disease, aging, or simply bad luck? One person thought of a way. Four years ago Mary Tomjack had an idea that started by providing some basic needs, like warmth, comfort, and a feeling that somebody else cares. It was no surprise, having served on the Salvation Army Board in Portland, that Mary would continue her giving ways after moving to Central Oregon. She learned that a friend of hers in Atlanta, Georgia, was making blankets for a homeless shelter and thought . . . why not here?
Following a tutorial on YouTube, which involved cutting and tying rather than sewing, Mary made her first fleece blankets. Shortly thereafter, Mary was seated across the table at a dinner event from the development director for KIDS Center in Bend, and told her that she had these blankets. The response was, "we'll take them all."
Fast forward to today. The organization she has built single handedly, which she named Heartwarmers, has more than 100 volunteers making fleece blankets by hand, along with pillows, hats, scarves, gloves, lap robes, and even knitted bears and toys that are distributed to people who are in need through organizations like KIDS Center, Saving Grace, Partners in Care, St. Charles and BMC Cancer Centers, Pregnancy Resource Centers, Bethlehem Inn, Jericho Road, and dozens of others.
In all, Heartwarmers has donated more than 8,000 items to our Central Oregon communities. For the first three years the Tomjack garage, which was supposed to include space for husband Tom's prized auto collection, was instead filled with piles upon piles of donated raw materials and finished products. Fortunately, for the marriage and Heartwarmers alike, a real office/warehouse now holds all this at 178 S. Elm Street in Sisters. How did Mary bring in so many volunteers so quickly? Just meet her and you'd know. Mary has a shining way of bringing out your inner-best person, and even before she asks . . . you are on board.
Mary's daily schedule easily fills a full-time, CEO-type job, conducting workshops twice monthly in Sisters, Redmond, and Bend, conferring with associations, distributing the goods, and overseeing teams of volunteers. Once Mary secured 501(c)(3) non-profit status for Heartwarmers, she at last had a board to assist with all the legal and financial aspects not unlike those faced by a growing business with expanding markets.
Above all, still including hands-on with her brightly colored blankets, Mary infuses into Heartwarmers a love and joy and enthusiasm that can only bring about good feelings both for those providing help and those receiving it.