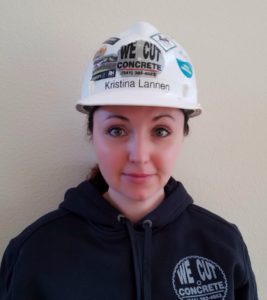 Kristina has been able to push through the stereotypical boundaries of what role women can play in the construction industry. As the President of We Cut Concrete she completes job estimates, assists with project management and schedules the work crews of her concrete cutting company. Construction is an industry known to be dominated by men, and Kristina has had to work that much harder to become accepted and reap the rewards of well-deserved success. Many times on a job site when a client has asked to "speak to the boss". Kristina then has to explain that she is the boss. After a moment of silence this is usually followed by an apology and a comment such as, " I just figured you were a secretary", or " Typically a woman doesn't do what you do." Despite the challenges presented by pre-conceived notions of what women can do, Kristina has built wonderful working relationships with her customers and project managers in what is typically seen as a "man's world". Her company regularly works with all of the major Central Oregon construction companies on a wide variety of projects
In a time when women are just now finding empowerment in what were traditionally male dominated industries, Kristina has already been leading the way in demonstrating that women can be strong, successful leaders regardless of the career they choose to pursue.
Nominee Organizations and Activities:
Kristina and her husband David are members of the Trinity Lutheran Church.