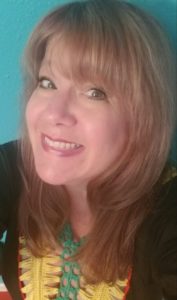 Karen has been on stage since she was 3 years old, in community and professional theatre, and holds a degree in vocal music. Karen has toured nationally and internationally as a soprano soloist, including Washington D.C., The Bahamas, Poland, Hungary, Czechoslovakia, and…Disney World.
From the age of 12, she began a young career as the ingenue in musicals including Nellie in South Pacific, Luisa in The Fantasticks, Maria in West Side Story, Maria in Sound of Music, and enjoyed performing Shakespeare, favorite roles being Juliet in Romeo and Juliet and Kate in Taming of the Shrew.
Locally, some favorite performances include Bella in Lost in Yonkers, Yum Yum in The Mikado, Mother Superior in Nunsense, Sarah Jane Moore in Assassins, Madame Thenardier in Les Miserables, Frau Blucher in Young Frankenstein and Sleeping Beauty in Disenchanted and has directed shows to include 9 to 5 the Musical, and Avenue Q, 25th Annual Putnam County Spelling Bee, The Odd Couple, Crimes of the Heart, and Blackbird, 9 to 5 the Musical and The Bad Seed.
Karen has emceed several local events including Summer and Fall Fests, and was a judge for Swinging with the Stars at The Tower Theater. She is honored to be emceeing this event!
Karen also performs as a stand up comic. Karen is a teacher, stage and musical director, vocal instructor, writer, playwright, and an obnoxiously proud mum.