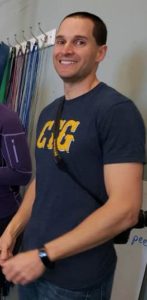 Field Manager – Bureau of Land Management (BLM)
Co-Chair – Inclusive Innovation Initiative (I3) Committee
Jeff has worked and studied in fields related to public lands and resource management for over 20 years.  His career has taken him to Virginia, Pennsylvania, Florida, Michigan, Montana, Nevada, Colorado, Oregon, and Washington D.C.  Throughout his career he has participated in numerous leadership and diversity initiatives.  This work has included developing recruitment and retention strategies for numerous offices throughout the BLM, assisting with diversity strategies, and providing hours of diversity training to audiences in and out of the government.
Outside of work Jeff has also held several leadership positions on committees and boards for Non-Profits.  These have included Chairing the Mile-High Chapter of the Society of American Foresters in Denver, CO and acting as a board member for the Audubon's Conservation Education Center in Billings, MT.  Most recently, upon graduating from the Bend Chamber of Commerce's Leadership Bend program he volunteered to help Co-Chair the Inclusive Innovation Initiative (I3).
Jeff is an avid outdoorsman and enjoys hiking, camping, skiing, snowshoeing, snorkeling, paddle boarding, fishing, etc. with his wife Rachel and two sons, Caleb 13 and Graham 10.  He is also a bit of fitness nut who does Crossfit, Tae Kwon Do, and Yoga classes weekly.