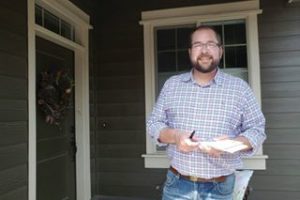 Occupation: State Representative
Governmental Experience: Redmond Planning Commissioner; Redmond Neighborhood Revitalization Committee; US 97 South Redmond Corridor Advisory Committee, Vice President of COAR, State Director for the Oregon Association of Realtors, Chairman of Government Affairs, served on the Strategic Planning Committee and Public Relations
Educational Background: University of Cincinnati & Oregon Leadership Academy
A Family Man: He and his wife Zanthel have two children, Lukas and Maddox, daily reminders for Jack of the need to bring Central Oregon values to Salem.
A Business Man: As a small business owner Jack understands how Oregon drives up housing costs in Central Oregon and harms small business with high tax rates and onerous regulations.
An Involved Citizen: Jack loves to volunteer in his community and is connected with numerous organizations, such as Boys and Girls Club, Red Cross, and Habitat for Humanity.
An Experienced Civil Servant: As a Redmond Planning Commissioner, Jack has worked hard to bring down the high cost of housing, especially for retirees and others living on a fixed income.