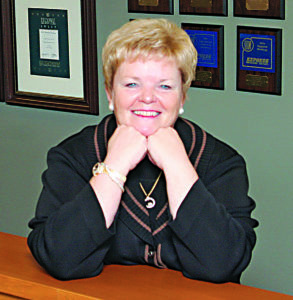 Connie Druliner, President/CEO  Express Employment Professionals
Connie started the Bend franchise of Express Employment Professionals in 1983.  She is one of the original 20 franchisees of Express Employment Professionals. Today there are over 700.
Through her leadership, the Bend office has continued to win international awards yearly and is in the top tier of recruiting firms across the country. Each year of her tenure, Connie's office has received the Express Employment Professionals Circle of Excellence Award. Connie was tapped the Franchisee of the Year for 2003. In 2006, Connie was awarded the Gordon Blair Heritage Award; the highest honor given by Express Employment Professionals. This award is given to an individual possessing extraordinary enthusiasm, positive attitude and integrity, and who has contributed significantly to the overall development and success of the company. In 2002 Connie received and had an award named after her for most clients billed in a year. The award is aptly named "The Connie Award."
Connie was honored by the Bend Soroptomists in 2002 as their Woman of Distinction, by the Bend Chamber of Commerce as the Small Business of the Year in 2014 and as Citizen of the Year in 2005, and in 2006 Connie was selected as the first inductee into the Inspirational Women Hall of Fame established by the Women's Resource Center of Central Oregon. In 2007 she was honored by The Center Foundation for her leadership with their Toast to the World Travel Award. She has been identified by The Bulletin as the Woman of the Year in 1998 and one of 15 Women of Inspiration in 2015. Cascade Business News tapped her for Woman of the Year in 1998. Connie has served on over 40 boards during her tenure in Central Oregon.
Connie's children include one son and five daughters. Her son is a corporate executive who divides his time between Bend and the rest of the world. Of her daughters, one is a school principal in the Portland area, one is the Director of Peace Health Family Medicine in Vancouver, Washington, one is a Registered Nurse in Southern Oregon, and the fourth, is the Chief Operating Officer of the Bend/Redmond Express Employment Professionals offices.
Connie and her daughter, Stephanie Miller, formed a partnership in Express Employment Professionals during 2015.
Connie married Bend CPA, Jerry Druliner in September of 1999 who has now retired. With the addition to the family of her husband's two daughters, their spouses and six more grandchildren, Connie is the proud grandmother of 15. In fact, she calls it her favorite job ever!