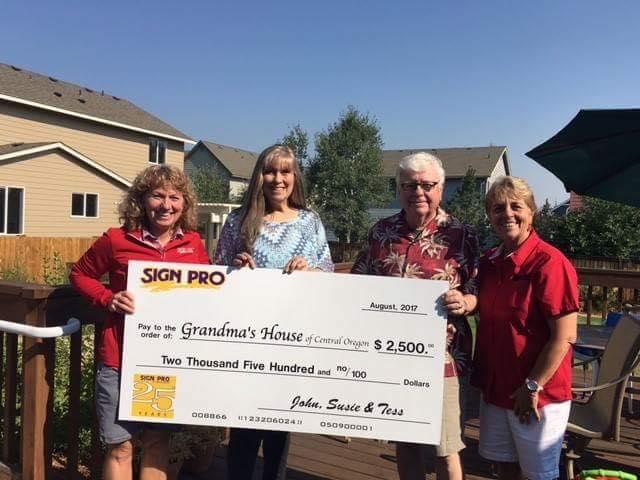 ---
You may remember the jingle… Sign Up With Sign Pro! In 1992, Sign Pro opened its doors in Bend. It was during the Super Bowl between Troy Aikman of the Dallas Cowboys and Jim Kelly of the Buffalo Bills that their first television commercial aired! Sign Pro's affiliation in the beginning with KTVZ gave them a great opportunity to get their name out there. They were certainly successful in getting the jingle stuck in your head!!
In April 1998, the ownership of Sign Pro was purchased by its founders: John Larkin, Tess Tompos and Susie Decker. The owners had a vision for providing Central Oregon with quality signs at an affordable price with great customer service. In 2007, Sign Pro was honored to be named by the Bend Chamber of Commerce as Distinguished Small Business of the Year. They believe that this special recognition was also a result of their desire to give back to the community through donations and volunteer efforts.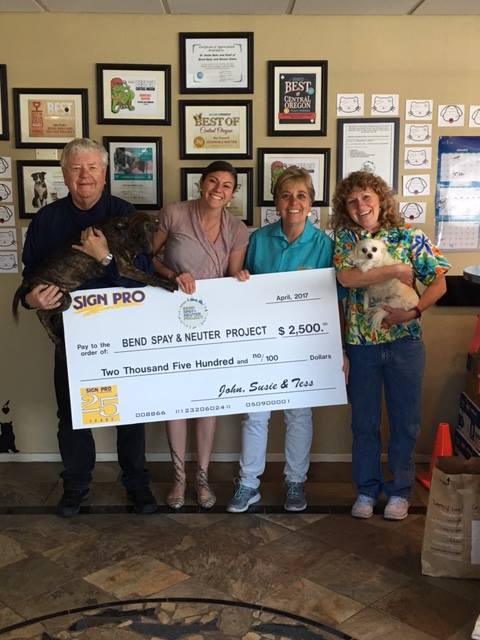 Wow… 25 years! In 1992, there were no roundabouts or drive-up coffee shacks on every corner! Sign Pro opened their doors on December 1st 1992 with one computer and a dream! How things have changed! Sign Pro has kept up with the latest sign technology over the years. In fact… they now carry smart phones instead of those huge portable phones that looked like a shoe box!! Sign Pro offers all types of sign services – vehicle lettering, banners, digital printing, real estate signs, ADA signs, display signs and decals.
Over 25 years, the economy and business climate in Central Oregon has changed so much. Sometimes Sign Pro has thrived and other times they simply survived. They would like to "high five" their loyal friends and customers because they could not have reached this milestone without them. To celebrate while showing gratitude to the community, Sign Pro has donated a total of $10,000 to four very worthy causes in 2017. A donation of $2500 has been presented to Bethlehem Inn, Bend Spay & Neuter Project, Grandma's House and The Giving Plate.
John, Susie & Tess say "Thank You for 25 Years" and they are NOT done yet. They value your patronage and friendship and are very proud to be a community partner since 1992.