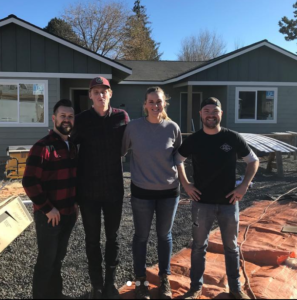 The Bend Chamber's Bend Young Professionals (Bend YP) has been focusing on finding ways to give back to the community including a toy and children's book drive over the 2018 holiday season that benefited Friends of the Children- Central Oregon, and through the scheduling a volunteer days once per month with the Bend Area Habitat for Humanity (BAHH). They have already hosted 2 build days and will continue to work closely with BAHH throughout the remainder of 2019.
In fact, today, Friday, January 25th, 10 volunteers are participating in a Build Day to work on one of the homes that Habitat for Humanity is currently building. Habitat for Humanity ReStore hosted Bend YP's January Social and had the opportunity to share about their mission and volunteer opportunities with the young professionals in attendance. "The work that Habitat for Humanity is doing in our community is incredibly important, and we are thrilled to be able to contribute to their efforts,"" said Stephanie Peters, Leadership Development Specialist for the Bend Chamber, "We are excited to have the opportunity to come together as a team and to make an impact."
The next scheduled Bend YP Build Day is Friday, February 22nd.
If you would like more information about how to participate with Bend YP, check out BendYP.org or contact Stephanie Peters at StephaniePeters@BendChamber.org.