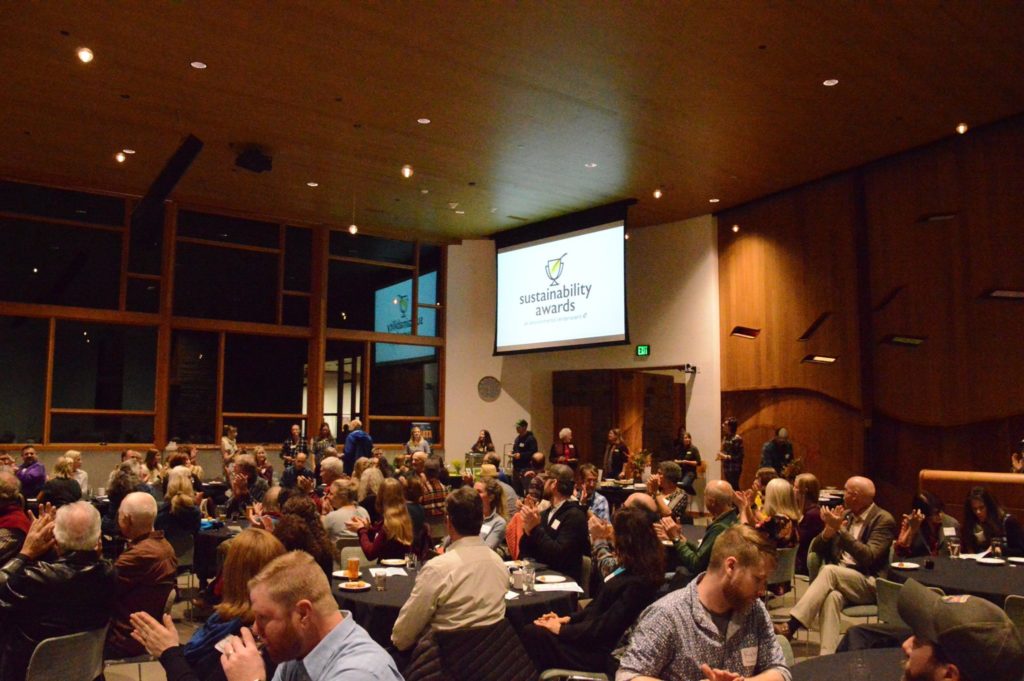 ---
The 2018 Sustainability Awards were announced by The Environmental Center tonight at a celebration at the Unitarian Universalist Fellowship of Central Oregon. The Environmental Center received 13 nominations and the winners were selected by a community review committee. "Sustainability is a big, complex topic," said Mike Riley, Executive Director. "Achieving it requires patience and perseverance in the face of often daunting obstacles. Our Sustainability Awards celebrate the citizens, businesses, and organizations in our community that are dedicated to overcoming these challenges and making sustainability real in Central Oregon."
The Environmental Center presented six awards:
A 13-member committee reviewed the nominations and selected the final winners.The committee members were: Allen Engle, Environmental Center Board; Becca Gilbert, Environmental Center staff; Cassie Lacy, City of Bend; Don O'Brien, Environmental Center Board; Indigo Teiwes, Hydro Flask; Jennifer Letz, Environmental Center Board; Karen Kassy, former Sustainability Awards winner; Kendra Hamerly, GreenSavers; Lauren Williams, Environmental Center staff; Mike Riley, Environmental Center staff; Serena Dietrich, Deschutes Brewery; Tom Elliott, Environmental Center Board; and Tom Rowley, Business Oregon. This year's awards were designed and created by local artist Pete Servine of NW Modern Design.
The nominees were scored on the basis of their leadership, innovation, and operating practices with regards to sustainability, as well as their community involvement and promotion of social equity. The 2018 Sustainability Awards are sponsored by Worthy Brewing.
---
About The Environmental Center
The Environmental Center's mission is to embed sustainability into daily life in Central Oregon. We translate sustainability into practical, local action in order to create a healthy future for people and the planet. Our programs incorporate education and advocacy to advance our vision of a sustainable community. We are focused on building community, educating kids, revolutionizing energy, rethinking waste, and advocating for change.