2020 Women of the Year, Young Hero Award Recipient
Young Hero Award Sponsored by Webfoot Painting
The Women of the Year Young Hero Scholarship fund helps provide educational financial support to the Young Hero award winner. The award will include one $4,000 scholarship for the winner. Thank you to our scholarship fund investors: Express Employment Professionals, Robberson Ford Lincoln Mazda, Bigfoot Beverages and Hayden Homes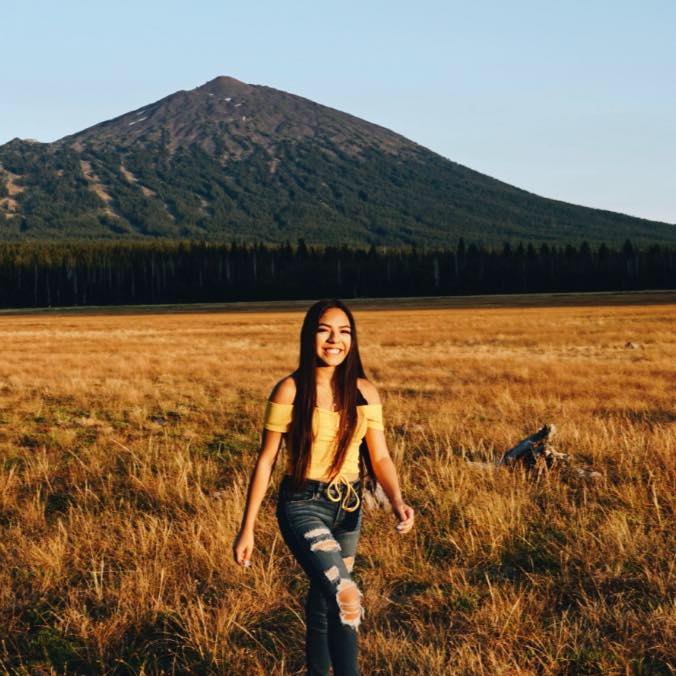 I have chosen to empower both myself and those around me, through social activism and kindness. The systematic oppression I have experienced throughout my life as a first generation Mexican-American has inspired me to speak up for those around me and set examples for those coming after me.
I spent my entire four years of high school at Bend Senior High, where I recently graduated from in 2019. This was where I discovered my love for social justice. During the 2018-19 school year I was the Vice President of the Cross Cultural Club, a club made to promote cultural equity at schools. We worked on projects, my personal favorite was when the president of the club at the time, Bryan Vasquez, and I wrote a letter to our state senators in defense of the program DACA. Together as a club, we collected 400+ signatures, and them them along with our letters. As a club we also attended a Town Hall on Race event at COCC, where students of color from around Bend LaPine came together to speak on their experiences with race within the school district. I was also on the local KPOV radio station, where I shared my experience at the Town Hall and also my experiences as a child of color.
At Bend High, I was also lucky to have been in the class "Design Justice", which is a class for young activists to work on projects to help the school and community, with the support of our school and our amazing teacher, Mr. Fox. One of the projects I worked on in this class was to advocate against period poverty for young girls in the school district, with my partner Zelith Monique. We attended the school board meeting, where we presented that the district should provide feminine products in their schools for their female students. These are basic needs that not everyone has access to unfortunately, and should not interfere with a girls education. I was interviewed for the Bend Bulletin for the project presented to the School Board.
I participated in events such as the March For Our Lives, environmental reform walk outs, and the Families Belong Together Rally. But most importantly, throughout high school, I led by example. The truth is that many children of color, like myself, that grow up in an oppressive school and federal system, don't always feel inspired to succeed academically. What I mean to say with this is that growing up I was usually the only person of color in my advanced, Honors, IB, or AP courses, at the most there were two other students of color in the whole classroom. I earned my honors diploma in June, and I still go back to bend high to talk to and encourage other children of color to push themselves academically, even when everything around them says they can succeed. I was elected by my staff to be one of the senior spokesmen for the 2019 graduation ceremony, along with my two amazing peers, Annika Timm and Emma Beaver. I was The first Hispanic to give the senior speech at Bend High in the 111 graduating classes this school has had. This was symbolic in that I was able to represent the Hispanic community, my people were finally recognized and represented.
Lastly I would like to mention I would not be who I am today if it weren't for my amazing community, and the teachers I have been blessed with, thank you for this opportunity!
Content supplied by nominee