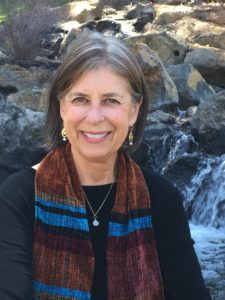 Caryl Ann Casbon
NW Poet and Writer

Why did you decide to become a judge for the Women of the Year Awards?
I was so delighted to be invited to be a small part of this important program that celebrates women in Central Oregon.  One of my intentions at this stage of my life is to support and acknowledge women for their contributions, their creativity, their courage, their leadership, and in having a strong voice in the direction of Central Oregon.

What does the Woman of the Year Awards mean to you?
The beloved mystic, Jalaluddin Rumi said: "Let the beauty we love be what we do. There are hundreds of ways to kneel and kiss the ground."  The Woman of the Year Awards shines a light on the beauty, and the "hundred ways" these powerful women bring their gifts alive in their lives, in the lives of their families, friends, colleagues, and those they serve.  Having come of age during birth of the women's movement, I treasure that this award program exists and encourages women in their successes and accomplishments.
 Bio:

Caryl Ann Casbon, NW Poet and Writer, author of: The Everywhere Oracle: A Guided Journey Through Poetry for an Ensouled World, also works as an interfaith minister, spiritual director, and facilitator for groups of clergy, health care providers, and leaders in education nationally and internationally. Caryl worked with the Sacred Art of Living Center, designing the group program for the Anamcara Project, worked for 13 years in the graduate school at Lewis & Clark College, leading and teaching in the Courage to Teach Program, the Graduate Core Program, and the MAT Internship program. She designed and led the Befriending the Unknown community-based program through the Alliance for Living & Dying Well in Santa Barbara, and wrote and created the Geography of Grace and The Soul of Aging programs for the Center for Courage & Renewal.
She currently lives along the Deschutes River Trail with her husband, Jay, her Bernese Mountain Dog puppy, Holly Bear, and her cat, Stewart, and volunteers at the Community Kitchen, and at First Presbyterian Church.