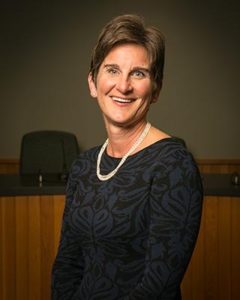 Mayor Pro Tem Sally Russell announced that she will run for a second term in November for Bend City Council, Position 3 .
Speaking at an event in Bend's Drake Park, Russell said, "My campaign, and my service on the council, will continue to focus on preserving and enhancing the Bend we love.  This is a very special place and I will work hard to keep it that way."
Russell was elected to the Bend City Council in November, 2012, and has served as Mayor Pro Tem since January, 2015.  She has worked on affordable housing, community engagement, local business vitality, river basin health and balancing responsible growth with fiscal responsibility.
A native of Oregon, Russell holds a BA from Smith College and an MBA from Portland State University.  An avid outdoor enthusiast, Russell is a founding member of the Central Oregon Mountain Bike Alliance (COTA), was executive director of the Cascade Festival of Music and currently serves on the Travel Oregon Outdoor Recreation (Means Business) Leadership Team.  She was nominated for 2016 Woman of the Year by the Source Weekly.
Learn more about Sally Russell