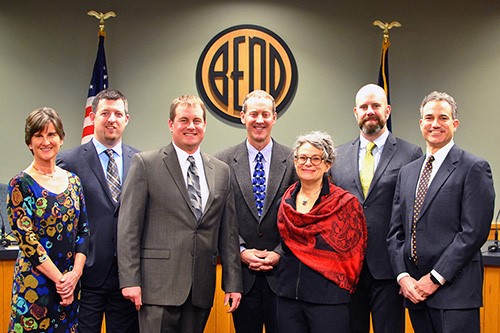 The long path towards implementing the UGB took another step. Councilors decided to create a Citywide Transportation Advisory Committee which will work together with the City Steering Team and the (MPO) Technical Advisory Committee to update the Transportation System Plan (TSP) and the Metropolitan Transportation Plan (MTP).
Growth Management Director Nick Arnis emphasized that public input from Bend citizens is one of the key ingredients to a successful implementation of a new TSP. Once selected, the new committee will meet during a two-year period to discuss the future transportation system in Bend and will include 20-30 members from a diverse cross-section of the community.
Interested individuals can download an application and apply to the Citywide Transportation Advisory Committee (CTAC) via bendoregon.gov/committees.  Applications are due Friday, October 6th by 5 p.m.  The full announcement can be read on the City website here.
The recruitment notice seeks experience in a variety of subject areas, some examples include:
Finance and funding strategies
Environmental/sustainability work
Land use and transportation planning
Healthcare
Transit
Bicycle and pedestrian modes
Freight
Motoring public
Social service organization work
Collaborative results-driven processes
The city has a $300 million wish list when it comes to upgrades for transportation infrastructure in Bend. This includes upgrades to both the Empire and Murphy Road corridors, where each are considered bottlenecks for drivers travelling within the east-west corridor.
The recently announced $50 million transportation funding package from the state put the projects closer to realization.
City Manager Eric King said the city will explore ways to leverage the state fund package with matching federal dollars, which could grow substantially when paired with federal money.
Arnis reminded councilors that any work spent updating the TSP falls within the first two council goals and touches upon the third. Goal one deals with implementing a growth plan, while goal two specifies working towards moving people and products around Bend efficiently, safely and reliably. The third seeks to increase affordable housing options, whereby, an updated TSP has many touch-points relating to future housing developments.  The Council Goals & Objectives can be accessed here.