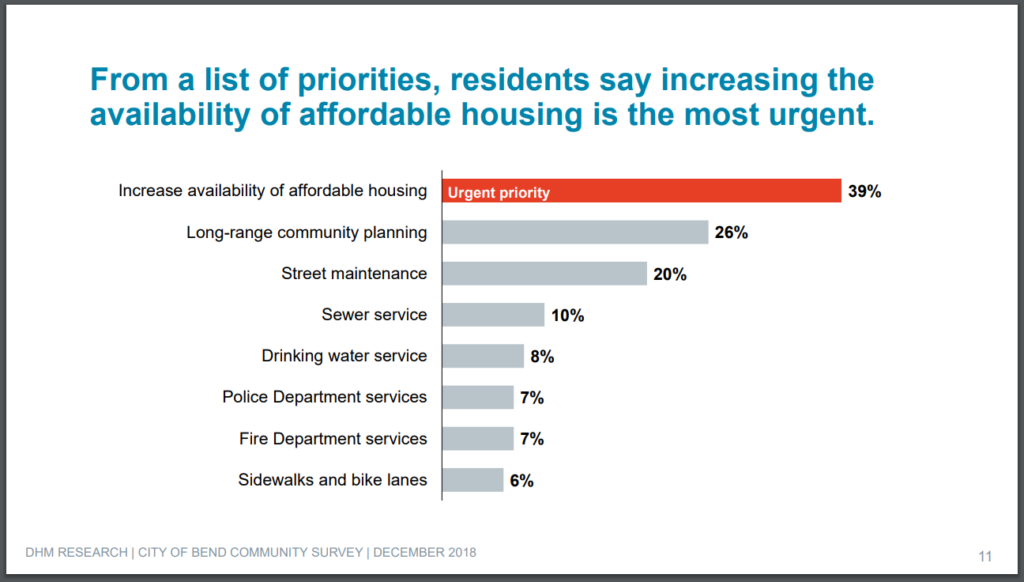 ---
If you'd like to watch the presentation of the Bend Chamber Growth Survey, click here.
In December 2018, the City of Bend conducted a community survey with the purpose of measuring changes in resident attitudes over time, assessing the City's performance in providing certain services, and identifying current resident priorities and preferences for funding services.
Key takeaways included:
Residents continue to believe that Bend is a good place to live but concerns about affordable housing and transportation have grown.
Satisfaction with city services is high, especially when it comes to public safety and drinking water.
Residents say the most urgent priorities—like affordable housing and long-term planning—are also the most important to fund.
According to the City of Bend community survey regarding top priorities, "residents say local leaders should work to improve transportation and affordable housing."
If you'd like to view the PowerPoint slides of the City of Bend Community survey, click here.
Many of the City's results are consistent with the Growth Survey the Bend Chamber conducted in partnership with Hubbell Communications, though there are some variances. The City's survey focused on community priorities while the Growth Survey assessed community perception and values.
Both the City of Bend Community Survey and Bend Chamber Growth Survey were discussed during the Bend City Council January 16 work session. Katy Brooks, Bend Chamber President and CEO, addressed the Council to introduce the survey and Ward Hubbell, President of Hubbell Communications.
Hubbell shared that 60% of respondents viewed growth as negative…
Hubbell shared that 60% of respondents viewed growth as negative, but went on to explain there's an important distinction between concern for direction vs growing population itself. "Is growth leading us to become Silicon Valley, an Aspen, or a better Bend?" He emphasized that residents want those who come to Bend to participate in the community, and for community leaders to resolve housing availability and wage growth.
---
If you'd like to hear more insights from the Growth Survey and participate in a discussion with panelists on the topic, join us at the February What's Brewing: The Once and Future Bend.
What's Brewing | The Once and Future Bend
February 5, 2019 @ 10 Barrel East Side Pub
Presentation of survey results:
Adam Davis, DHM Research
Panelists:
David Welton – Bend YIMBY (Yes, In My Backyard!) 
Kirk Schueler – President and CEO, Brooks Resources
Eric King – City Manager, City of Bend
Preston Callicott, CEO of Five Talent Software
Doors open for networking at 5:00p.m., forum starts at 5:30p.m. For more information and to register, click here.
Be sure to follow us on Facebook for updates on issues affecting the business community, information on upcoming events, and more!