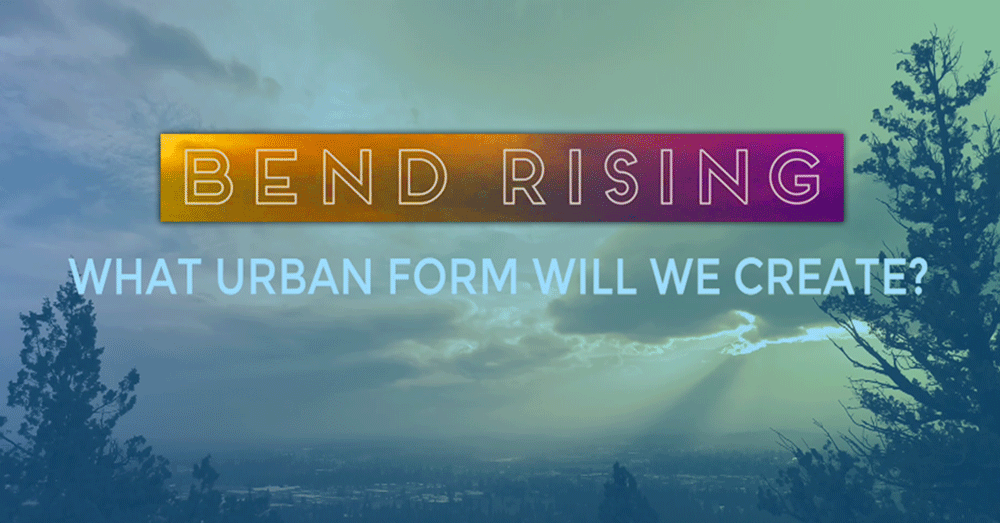 On the evening of October 10th, Bend Rising took the stage at the Tower Theatre. Over 240 were in attendance as representatives of the Bend Chamber's Young Professionals Network (YPN) were joined by John Savo, architect and "urbanist," for an informative and dynamic discussion about "future" Bend.
Kicking off the evening, Mr. Savo gave a terrific presentation outlining the possibilities of what our urban form could take. Not so much the direct solutions to Bend's many challenges to managing growth, but, rather, a glimpse at what could be possible based on what other cities around the world have done so far. One attendee noted how "interesting Mr. Savo's presentation was regarding urban planning and the possible desired layouts of buildings, streets and parks for growing communities like Bend."
After the presentation, the program shifted to opening questions to the guest panel that included: Meg Sinclair, on-air personality at 1077 The Beat; Harrison Womack, with Velox Systems and Chair of YPN; Maggie Kirby, VP of Development at Craft3 and Deschutes County Planning Commission member; and Bud Torcom, CEO/Founder of Mazama Media. The audience was able to directly participate by asking questions to facilitator and Bend Chamber CEO, Katy Brooks, and by texting questions to a dedicated number where they were then posted on the big screen.
At the end of the evening, not all of the issues were solved, of course, but, that wasn't the intent of the event. The learnings from the discussion, however, will be compiled by the members of YPN and formally presented to the City Council for consideration as plans continue to form as Bend grows.